Why cybersecurity spending will drive business digitisation
As companies shift to digital technologies, they are investing more money in tools to protect their corporate networks and inviting CISOs to help plan and implement enterprise architecture.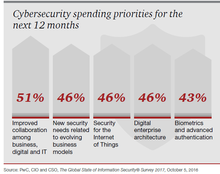 And CEOs are understanding this more and more. Burg notes that Elwin Wong, CISO of Ross Stores, was also given the role of enterprise architect. Another CISO, whom Burg declined to name, is deeply involved in his organization's shift to agile development and DevOps. These software development models, which favor rapid building, testing and deployment over rigorous documentation and processes, have become the preferred approaches to building digital services, allowing companies to quickly release minimally viable products and tweak them, based on consumer feedback. "Businesses are turning over and saying we have to be good at technology and innovation so we need the cyber guys and gals up front," Burg says.
Cloud, MSS adoption supports digital shift
It's difficult to quantify the number of CISOs who have been endowed with greater responsibilities but Burg says the proliferation of cloud technologies and managed security service providers (MSSPs) underscore his thesis. Some 63 percent of respondents said they were consuming cloud technologiesand benefitting from lower costs, ease of use and the ability to shunt maintenance chores to someone else. Burg also says that cloud software developed and battled tested by hundreds of engineers, which is typical at large vendors, is safer and easier to deploy then many on-premises technologies.
For similar reasons, 62 percent of companies said they were paying MSSPs for highly technical initiatives such as authentication, data loss prevention and identity management, signaling that businesses are making cybersecurity a priority despite lacking talent to fill key positions.
Upticks in cloud and managed security service adoptions pose an interesting implication. Companies that offload IT to the cloud and cybersecurity operations to MSSPs are ideally freer to focus on products that support their core business competencies. And that allows the entire C-Suite -- CEOS, CIOs, CISOs and CMOs -- to focus on their new digital imperatives. "This signals a very significant shift in business," Burg says.