When malware strikes: How to clean an infected PC
Snuffing out viruses and malware is serious business. Here's how to diagnose, treat, and protect an ailing PC.
You don't have to know Linux to take this step. But you will want an Internet connection, since these scanners must go online to update their malware databases.
The first step is to download a bootable virus scanner as an .iso file. From it, you can easily create a bootable CD. In Windows 7, double-click the file and follow the prompts. In Windows 8, right-click the file and select Burn disc image. For earlier versions of Windows, you'll need a third-party program such as the free ISO Recorder.
With its Windows-like user interface, the Kaspersky Rescue Disk will make you feel at home. But you have to be careful in setting up the scan. First, the Kaspersky Rescue Disk doesn't update its malware dictionary automatically. To do this manually, select the Update Center tab and click Start update. Once the utility is updated, return to the Objects Scan tab, click Settings, and set the security level to the highest position. Make sure that all of your hard drives are checked before you start the scan and leave the room.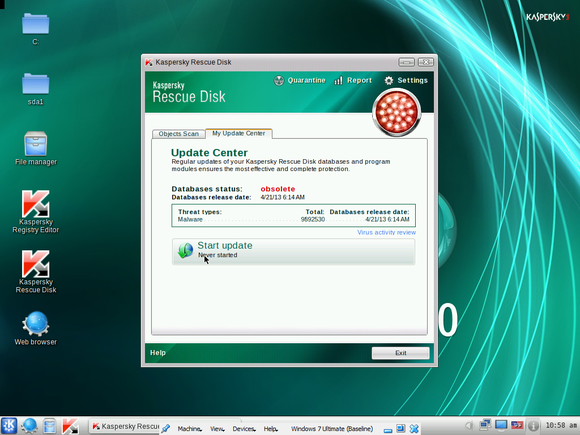 When you boot your PC with the Kaspersky Rescue Disk utility, you'll find yourself in a custom Linux environment. Simply update the Rescue Disk, crank all the scan settings up to maximum power, and let 'er rip.
If you want to boot the Kaspersky Rescue Disk from a flash drive, you'll need to download the prosaically named Utility to record Kaspersky Rescue Disk 10 to USB devices. Save it in the same folder as the .iso file, run the utility, and follow the wizard.
The F-Secure Rescue CD isn't as outwardly friendly as Kaspersky's program. In fact, it may make you nostalgic for DOS. But it works, though you may receive the following (unduly alarming) warning message: If a Windows system file is infected, the computer may not restart. I've never heard of anyone whose Windows system failed to restart after an F-Secure scan, and I suspect that the eventuality is very rare. I also suspect that if malware did infect a Windows system file—and if F-Secure couldn't clean the file without destroying it—reinstallation might be your only option anyway.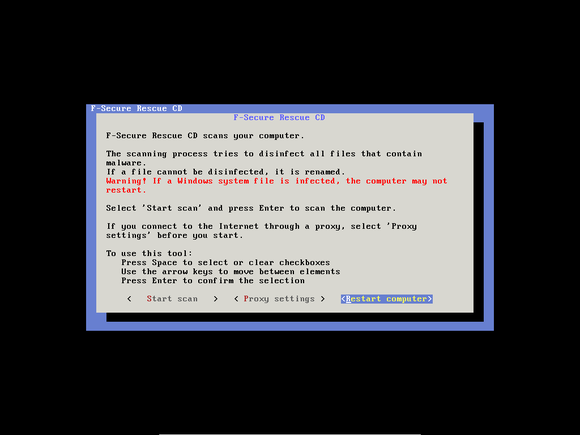 The F-Secure Rescue CD is a bare-bones cleaning utility for when you need to wipe every piece of malware from your PC without starting Windows.
F-Secure has a stripped down, unattractive, text-based user interface. But unlike Kaspersky, it updates its definitions automatically (if it can find an Internet connection), and starts a full, thorough scan with no fuss—you have to do little more than agree to the EULA.
Previous Page 1 2 3 4 5 Next Page