Security theater comes to CES
That same level of security that we love at airports will be at CES next year. This will not be pretty.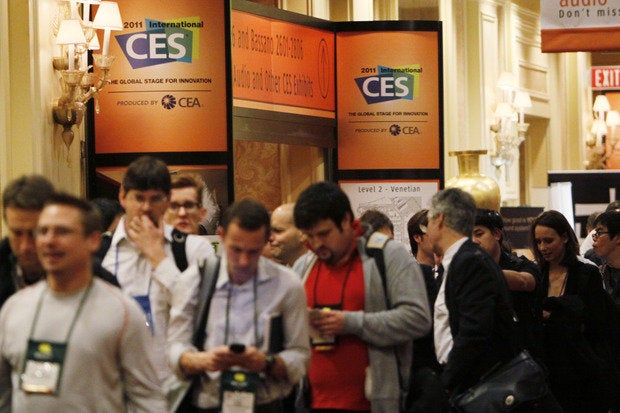 Long lines, like this one at CES 2011, should only be worse with new security measures for CES 2016. Credit: Rick Wilking, Reuters
Every year I confront the insanity that is CES. You may think of it as the ultimate geek toy exhibition. I see it as acres and acres of cement floors overflowing with grumpy crowds and cranky salespeople. Oh, the things I do for my readers to keep them informed about smart washing machines, more fitness trackers than you can shake your fist at and self-driving cars!
We, the few — well actually well over a hundred thousand of us — the tech-besotted, the lovers of 8K smart TVs are, can't seem to stay away from CES, but usually end up wishing we had. Oh, we like tech toys, but after, say, the first half-dozen virtual reality goggles, it gets really old, really fast.
At the end of the day, when you stick thousands of people into conference rooms, albeit Vegas-sized ones, even the most extroverted person gets fed up with crowds.
This year, though, the madhouse that is CES is going to be improved with airport-style security. And it's going to be a complete disaster.
The new CES attendee rules are:
"Luggage may not be brought into official CES exhibit and conference areas. This means no suitcases at the venues."
This is so not going to fly, especially on the last day, when everyone brings their luggage in so they can go straight from the venue to the airport.
"Sorry, no rolling bags of any size. This includes luggage, carry-ons, laptop and computer bags, and rolling luggage carts."
Because we all know that terrorists prefer rollies? I don't get it.
"Only two bags, each smaller than 12" x 17" x 6" (30 cm x 43 cm x 15 cm), may be brought into official show premises. CES exhibitors and credentialed members of the press may receive specific exceptions."
I would hope they'd let exhibitors and press in with more bags! While I'm fine with just my laptop bag, my colleagues on the radio and television side can't cover a show without multiple large bags.
"Bags will be searched. We suggest you use clear bags (mesh, plastic, vinyl, etc.) to expedite this process."
Well, that isn't going to happen. I can see the lines circling the Las Vegas Convention Center (LVCC) already!
"Bags and backpacks with many pockets are not helpful. Pockets slow search times."
My laptop bag, which isn't special, has nine, count them, nine, pockets. Oh, and not one of them is transparent.
"Everyone will be subject to metal detector screening and body pat downs upon entering show premises."