Protect your PC in the web's worst neighborhoods
Shady download sites. Fake error warnings. Phishing, so much phishing. Avoid these dangers with a good security suite and an abundance of caution.
You can prevent some infections by disabling Java in your browser—to do this just search in the Start Screen for "Configure Java." In the Java preferences screen you'll find a security tab, which allows you to disable Java in web browsers. Or you could just delete the notoriously leaky Java from your PC altogether—you won't miss it unless you truly need it.
Turning off JavaScript—which is different from Java—can also reduce the risk of drive-by downloads, though it may nerf some of the richer design features found on some sites. The popular NoScript add-on for Firefox blocks JavaScript but allows you to whitelist a specific website with a mere click. Chrome users can manage JavaScript permissions by opening the options menu and selecting Settings > Show advanced settings > Content settings (under Privacy) > JavaScript.
Internet Explorer users should check out this About.com tutorial on how to manage JavaScript in IE—and activate IE's ActiveX Filtering options while you're already ankle-deep in technical options. Bad guys frequently target ActiveX.
Using Sandboxie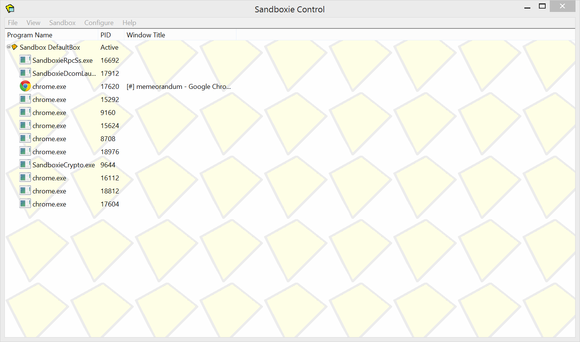 Sandboxie's control panel ain't pretty, but the software sure is effective.
To avoid all possible risk, or to take a protected walk on the wild side—like visiting a sketchy download site or installing a program that you're not sure about—there's a way to make sure you don't do any damage to your computer. It's called Sandboxie.
Sandboxie acts like a latex glove for your computer, dumping programs into a walled-off "sandbox." (Hence the name.) When it's activated, you can run programs or surf the web and be sure that those programs can't actually have any effect on your file system. That means they can't install software, or deposit or delete files on your machine. Instead, Sandboxie intercepts any changes, and you can decide if you want to let any of them affect your PC proper.
Once you've downloaded and run the installer, a quick tutorial will run, telling you to open up a browser window is sandboxed mode. To do that, just find the desktop shortcut for your browser, right-click on it, and choose Run Sandboxed. You can use this procedure to get your browser or any other program to run with Sandboxie's protection.
If you actually do want the sandboxed browser to be able to download a file, just download it as you normally would, and choose to save it in your Documents or Downloads folder. Sandboxie will display a dialog box asking whether you want to transfer the file out of your sandbox and onto your real hard drive.
Sandboxie isn't an excuse to throw caution to the wind, but it does give you a safe way to try out software that you're unsure about. Use it responsibly!