Netatmo Welcome review: Support for door/window sensors is great, but this camera's facial-recognition feature still falls short
While this security camera successfully takes the creep factor out of home monitoring, its marquee feature feels like a work in progress.
Aside from managing profiles and recording settings, the app can be used to turn the camera on and off. You can set a four-digit security code for accessing the on/off switch to ensure unauthorized people can't deactivate your camera.
Window/door tags add extra eyes
Neatmo Tags extend the Welcome's surveillance beyond its 130-degree field of view. These sturdily constructed sensors—they're water-, wind-, and UV-resistant—come with adhesive strips to adhere to any surface inside or outside your home. Affix them to a window or door, and they sense vibration in order to detect when it is being opened or is left ajar.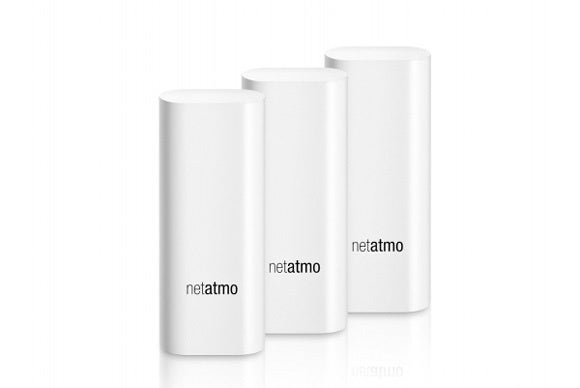 Netatmo's new door/window sensors add a feature that other home security cameras don't have.
As with the camera, you configure tags with the Neatmo Welcome app. The setup process requires you to again flip the camera upside down. You insert two of the supplied AAA batteries into each tag, and then follow the app guide for pairing it with your camera. Once a tag is paired, the app prompts you to name it— "front door" or "master bedroom window," for example—and assign it a category. Tag usage isn't limited to doors and windows; the category options suggest you can mount tags on gates, mailboxes, furniture—basically any object you want to monitor for movement.
Once the setup process is done, you can affix the tag to the appropriate point of ingress. You'll then be prompted to calibrate it, which requires you to leave the door or window closed for up to two minutes. When calibration is complete, your tags are officially on guard duty.
I found the pairing process to be a little arduous—the spring-loaded battery-compartment lids are prone to repeatedly popping off when you're trying to lock them—but once the tags are up and running, they work as promised. Whenever a door or window was opened, I received a timely alert on my device and the movement was promptly recorded in the Welcome app's event timeline. Most impressive, the tag alerted me as soon as even a small amount of force was applied on the door or window, so I was aware someone was coming in before the entry-point was actually breached. That could potentially allow you to stop an intrusion before it happens.
Bottom line
The Netatmo Welcome gets points for trying to make the home-security experience more reassuring than alarming. Everything from the product's name to the extensive personalization options seeks to remove—or at least to downplay—the creepy surveillance aspect of home monitoring. And the addition of Neatmo Tags is an easy way to expand the security system without having to purchase a second camera.
Previous Page 1 2 3 4 5 Next Page