Nest is taking preorders on the Nest Cam Outdoor; expects to ship the camera in September
Nothing groundbreaking here, but the weatherproof enclosure and Wi-Fi adapter sound pretty bulletproof. Existing Nest Cam Indoor and Dropbox Pro users will get new software features, too.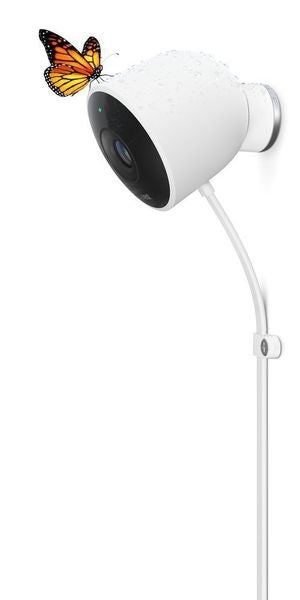 Surprisingly enough, the end of the cable that plugs into the Wi-Fi module is detachable. So if you don't have any outdoor outlets, you could drill a hole in your wall that was just big enough to accommodate the cable and plug the camera into an indoor outlet. "Obviously we increased the range of Wi-Fi connectivity as well," Nariyawala said.
The camera will deliver 1080p video resolution, typical for this class, but Nariyawala said it will have a very wide 130-degree field of view, day or night. The field of view on most cameras narrows when darkness activates their night-vision mode. Video streamed to the cloud will be encrypted with a 2048-bit RSA key and with a 128-bit SSL connection.
New Nest Cam (and Dropcam Pro) software
When Nest ships the Nest Cam, it will also release a software update that will deliver several new features to existing Nest Cam Indoor and Dropcam Pro users. All users will get a new feature called Spaces that enables users to "place" all their Nest products within "rooms" inside their home.
So if you have a Nest Cam Indoor and a Nest Protect smoke/CO detector in your living room, a Nest Learning Thermostat in your hallway, and a Nest Cam Outdoor on your front porch, you can place icons representing those devices in a graphical representation of your home and be able to control all of them from one screen on the app.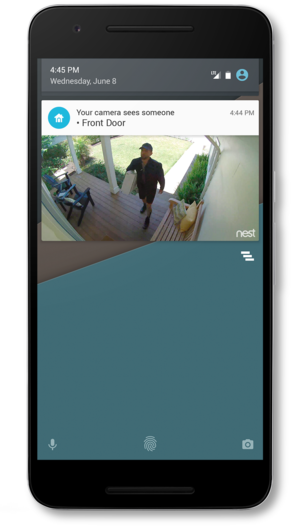 Subscribers to the Nest Aware service ($10 per month to store up to 10 days of video history, or $30 per month to up to 30 days) will get a new feature called "person alerts."
This is a server-based algorithm that will analyze the feed from your camera in real time to distinguish a human being from anything else that might appear in front of the camera. If the algorithm determines that it's a person, it will send an alert to the app to let you know.
"Algorithms aren't perfect," said Nariyawala, "when we see a person right in front of the camera, we'll send you an alert. But if the person is partially hidden by a plant, the camera will report that it thinks it's seen a person, so that you can decide if you need to investigate." Unlike Netatmo's Welcome home security camera, Nest's person alerts won't use facial recognition to try to identify who the person in front of the camera is.
The final new feature Nest is adding to its app is one that Dropcam Pro users have always had: Secure private camera sharing. This will enable Nest Cam users to create and share private, password-protected livestream links with friends or family-a handy feature if you leave on vacation and ask someone to watch your house for you.