Nest is taking preorders on the Nest Cam Outdoor; expects to ship the camera in September
Nothing groundbreaking here, but the weatherproof enclosure and Wi-Fi adapter sound pretty bulletproof. Existing Nest Cam Indoor and Dropbox Pro users will get new software features, too.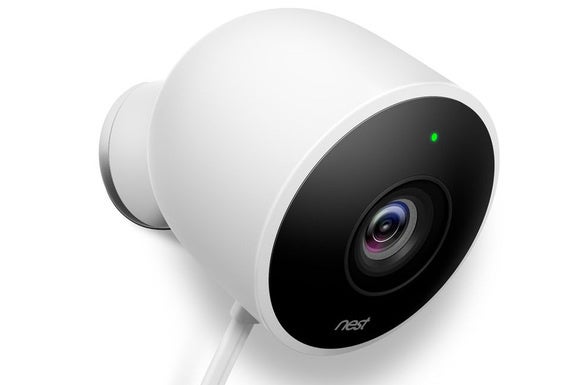 Nest Labs is taking preorders on a weatherproof outdoor version of its Nest Cam home security camera that will reach store shelves in September. Nest will also release a new version of its camera app at that time, delivering some of the same new features to Nest Cam Indoor and Dropcam users. More on that later.
As we've come to expect from Nest, the $199 Nest Cam Outdoor doesn't look like the typical outdoor security camera (take Reolink's RLC-410, for instance). It's closer in appearance to Netgear's battery-operated Arlo HD; and like that camera, it has a magnetic swivel mount that enables you to mount the camera on a metal surface-such as a gutter-without any screws and then position it to monitor the desired area.
As Nest Cam product manager Mehul Nariyawala put it, "none of the existing cameras are designed in such a way that my wife will ever allow me to put one in our home."
You won't have to rely solely on magnets to install the camera. A more conventional wall plate will also be in the box. Unlike the Reolink, the Nest Cam Outdoor connects to your network wirelessly, and unlike the Arlo HD, it operates on AC power and remains powered up 24/7.
And unlike either camera, the Nest Cam Outdoor will have two-way audio capabilities, thanks to a built-in mic and speaker, so you can communicate with the person you see on the camera. "This is one of the first cameras to come with two-way audio," said Nariyawala.
"Not only can you use it to deter a suspicious person, but if there's a delivery guy, you can tell him to put the package somewhere safe." That's a feature we previously lauded in the Kuna Smart Home Security Light.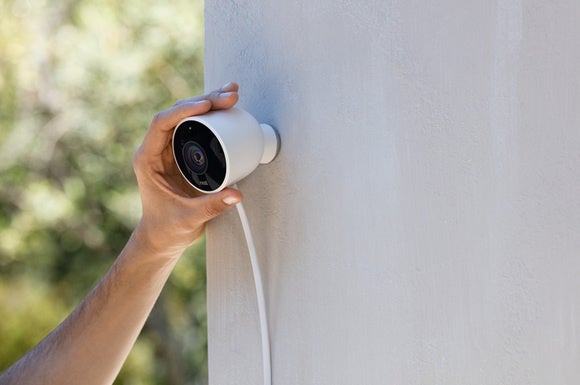 The Nest Cam Outdoor's camera housing is rated IP65, meaning it's completely protected from dust ingress and from water jets emerging from up to a 6.3mm (1/4 inch) nozzle. That should be enough to protect it from water sprayed from a hose to clean it, but it probably wouldn't withstand an onslaught from a pressure washer (nor would we expect it to).
A permanently affixed 7.5-meter (about 24.6 feet) cable emerges from the camera and connects to a plug-in USB module for power and Wi-Fi connectivity. This module, which is likely to be more exposed to the elements than the camera itself, boasts an IP67 rating, meaning it can be immersed in up to one meter (a bit more than three feet) of water without ill effect. "It could be buried in the snow or you could put it in a puddle of water and it will work perfectly fine," said Nariyawala.