Mic drop: How to keep snoops from listening to your laptop's microphone
Mark Zuckerberg put tape over his Mac's mic. That's not going to help.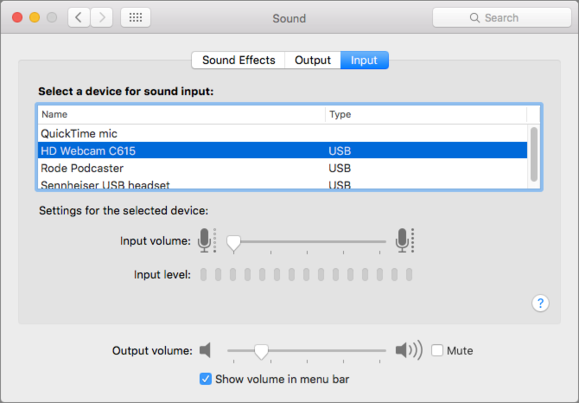 Set audio input to zero for all your mics.
Malicious software may be able to reset input volume, bypassing these settings, or pull audio directly from a device at a stage before this setting may be applied. However, it's the simplest and most direct change you can make that has no other repercussions. Turn input volume up for a given device whenever you need to, and unplug any USB input devices while you're not using them for extra protection.
On Macs that support audio input through the 3.5mm "headphone" jack-such as by using the ear buds/headset combo that comes with an iPhone-you could insert an stubby adapter that has nothing plugged into it, but this doesn't apply to the built-in mics found in nearly all Macs, nor does it necessarily prevent malware that's capable of accessing audio drivers from switching on audio input.
Monitor microphone use

Micro Snitch alerts you when mics and video cameras are activated and deactivated.
Micro Snitch, from the makers of network-activity detector Little Snitch, watches for audio and video input activity at a system level. It's just $4. When it detects a mic becoming active it posts an OS X notification and then floats a window with non-intrusive animation indicating it's in use.
Because it's lower level than the Sound preference pane, and because it's separately installed software that's not going to be found on every Mac, it's more likely that malware would trigger it. Micro Snitch can't monitor all input: it said it couldn't alert me to some USB-attached microphones, but I recommend only attaching those on demand if you're that concerned.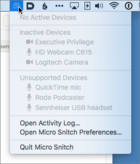 Micro Snitch can't monitor all devices; USB can be unplugged, however.
Remove the drivers
Unlike Windows and Linux, Apple doesn't provide easy access to hardware drivers, either to install, remove, or modify settings. This was intentional, as part of OS X's friendly face contrasted against Windows' obscurity. It's also sometimes maddening, because being able to manage drivers through a system-provided interface can help troubleshoot problems.
Kenn White, a cryptography expert, pointed me to the National Institute of Standands and Technology's report on securing OS X for IT professionals. The report oddly discusses disabling microphone input without the specifics of how to do it, however. It does provide a lot of excellent background detail that's worth reading.
You can disable audio system-wide, White noted, by removing a few driver files via the Terminal app using the command. Warning: As with all such unsupported low-level changes, you can wind up with an unusable system. Make a backup first and be prepared if something goes wrong.