Kaspersky Labs says Microsoft is anticompetitive towards third-party antivirus
Eugene Kaspersky's issue isn't so much that Windows Defender exists, but that Microsoft aggressively favors it.
Kaspersky also wants Windows 10 to "explicitly inform the user of the presence of incompatible software before upgrading," and then recommend to install a compatible version of said software after the upgrade. The first part of that demand is not unheard of. In 2012, Microsoft's Windows 8 upgrade utility informed users of incompatible programs before continuing with the upgrade.
Warnings and favoritism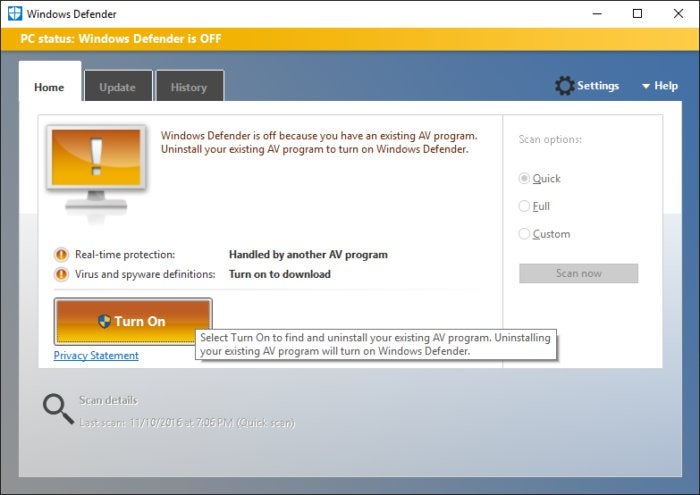 Windows 10's warning for Windows Defender.
Kaspersky also took issue with Microsoft's warning window for Windows Defender. When another AV product is installed, Windows 10 can display the warning you see here that says Defender is turned off.
If you press that Turn On button seen above, it automatically turns on Defender and disables the third-party AV program. Kaspersky wasn't clear about when this warning window appears. When I installed Kaspersky Anti-Virus on Monday the warning window did not appear until I explicitly opened it.
Kaspersky argues that Windows 10's treatment of third-party AV programs can also have some unintended consequences for the user. Let's say, for example, that a user accidentally installs a trial period antivirus program (it's easy to do this with bundleware) while also running, say, AVG Antivirus. The new trial software disables AVG, but when the trial period ends for the new software both third-party programs are deactivated, and Defender is turned on. In that situation, Kaspersky believes Windows 10 should default back to AVG instead of Defender since AVG was the more recently used security program.
Kaspersky also wants Windows 10 to explicitly ask the user before enabling Windows Defender. That's probably a no-go since Microsoft aims to balance user convenience and security with ease of use in Windows 10. Automatically enabling Windows Defender in the absence of another security program does all of that.

A Windows 10 Action Center security warning.
Yet Microsoft could make its Action Center notifications more explicit. When I uninstalled Kaspersky AV on Monday, Windows 10 notified me that my PC was not protected. The OS then advised me to click on the notification seen here to activate Windows Defender. Seconds later Windows Defender was activated with no action taken on my part.
Kaspersky isn't the only one taking issue with Microsoft's current tactics. Epic Games CEO Tim Sweeney has accused Microsoft on several occasions of killing the PC as an open platform—arguments that we've disagreed with yet haven't entirely discounted.