Hacker takes out dark web hosting service using well-known exploit
Freedom Hosting II allegedly was hosting child pornography sites, according to hacker
A hacker is proving that sites on the dark web, shrouded in anonymity, can easily be compromised.
On Friday, the unnamed hacker began dumping a sizable database stolen from Freedom Hosting II onto the internet, potentially exposing its users.
The hosting service, Freedom Hosting II, was known for operating thousands of sites that were accessible through the Tor browser; the "dark web" is essentially the encrypted network comprising Tor servers and browsers. But on Friday, the service appeared to be down. Its main landing page was replaced with a message saying that it had been hacked.
Allegedly, Freedom Hosting II had been hosting child pornography sites, though its anonymous operator claimed to have a zero-tolerance policy toward such content, according to the hacker behind the breach.
"What we found while searching through your server is more than 50% child porn…" the hacker wrote in the message left on the site. "Moreover, you host many scam sites, some of which are evidently run by yourself to cover hosting expenses."
In an email to the IDG News Service, the hacker explained how the breach came about. "I just recently read an article about a well-known exploit that some hosting providers fell victims of many years ago," the person said.
Freedom Hosting II worked as a free service that allowed anyone to sign up and create a site on the dark web. However, starting on Jan. 30, the hacker gained access to its web server, using a 20-step method.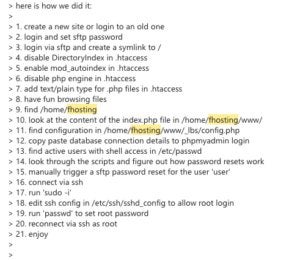 Michael Kan
The method the hacker claims to have used.
The hack essentially involved starting a new site on Freedom Hosting II and creating a link to gain access to the service's root directory. This allowed the hacker to browse the entire server.
"I was just curious at first," the person said. "I had reading permissions to everything the web server could get access to just by creating a symlink to / (the root directory)."
After coming across child porn sites, the hacker decided to take over Freedom Hosting II by altering its configuration file to trigger a password reset.
"Once I found out what they were hosting, I just wanted to shut them down," said the hacker, who's also been circulating what he stole through a torrent file.
The dump includes 74GB of files and a 2.3GB database from the service, the hacker claims.
"The IP of the server has been leaked, which potentially could reveal the admin's identity," the hacker added.
Chris Monteiro, a cybercrime researcher based in the U.K., has been looking through the data dump, which he said appears to be real. The information includes the sites that Freedom Hosting II had been operating, along with the admin credentials to access them.