FBI, keep out! How to encrypt everything
Encryption is a vital self-defense tool, so here's how to enable it on all your devices and computers running the major OSes.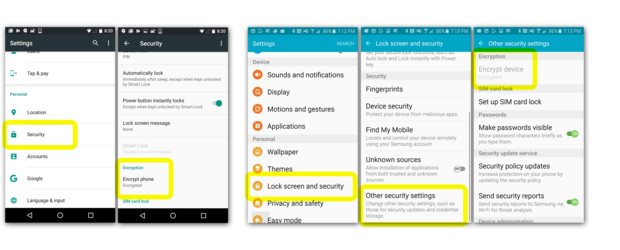 Left: In the standard Android 6 Marshmallow's Settings app, tap Security in the main screen, the Encrypt phone in the Security screen, and follow the instructions. Right: On Samsung devices in Android 5 Lollipop's Settings app, tap Lock Screen and Security, then tap Other Security Settings, then tap Encrypt device, and follow the instructions.(Click on image to enlarge).
Don't back up to cloud services like iCloud or Google Drive; the government can get warrants to access those backups. Instead, in iOS back up to your PC or Mac via iTunes, with the Encrypt iPhone/iPad Backup option turned on for each device in iTunes' summary pane. Now your backups are safe from prying eyes, too. Unfortunately, Android users don't have a similar option for secure, encrypted backup.
Use encrypted services like Apple's iMessage and OpenWhisper's TextSecure where possible. SMS service from your phone company is not secured from government agencies.
If you use a BYOD unit that mixes corporate and personal information, I suggest you stop accessing it for work -- especially if your company employs mobile device management (MDM) software, because it can help unlock your device and provide access to its contents. Some companies use MDM-managed containers for corporate data and apps, which might provide the separation you need to keep doing BYOD. Beware: If they can unlock your device, they then have access to your personal data as well. It's safer to carry separate personal and work devices.
How to encrypt your PC or Mac
On your computer, be sure to turn on encryption. Note that you'll need administrator privileges to do so.
On a Mac, do so using the Security & Privacy system preference to enable Apple's FileVault encryption. If you have multiple user accounts on the Mac, be sure to enable encryption on each one that you want to protect. I suggest you choose a different FileVault password than what you use for your iTunes or iCloud account; if an agency gets Apple to reveal that password, it won't decrypt your Mac.


Left: To encrypt your Mac, open the Security & Privacy system preference, go to the FileVault tab, click Turn On FileVault,and follow the instructions. Center: To encrypt your backup drive when first selecting that drive, open the Time Machine system preference, click Select Disk, then in the sheet that opens select the desired backup drive, check Encrypt Backups, and click Use Disk. Right: To encrypt any external drive at any time, right-click it in the Finder and choose Encrypt from the contextual menu that appears. (Click on image to enlarge).
Also be sure to encrypt your Time Machine backups and any external drives. When setting your backup drive, you can encrypt it in the Time Machine system preference by clicking Select Disk, selecting the backup drive, enabling the Encrypt Backup option, and clicking Use Disk. In OS X El Capitan, you can encrypt any external drives, including your Time Machine backup drive, by right-clicking or Control-clicking it in the Finder and choosing Encrypt from the contextual menu that appears. In older OS X versions, you can use Disk Utility to encrypt a drive; select the drive in its Sidebar, then choose File > Encrypt or File > Lock, depending on your OS X version.