Cybersecurity whistleblowers: Get ready for more
It is not a comfortable topic – virtually all cases involving a cybersecurity whistleblower have ended with a confidential settlement. But experts, and lawyers, say that in an increasingly connected world, those cases are bound to increase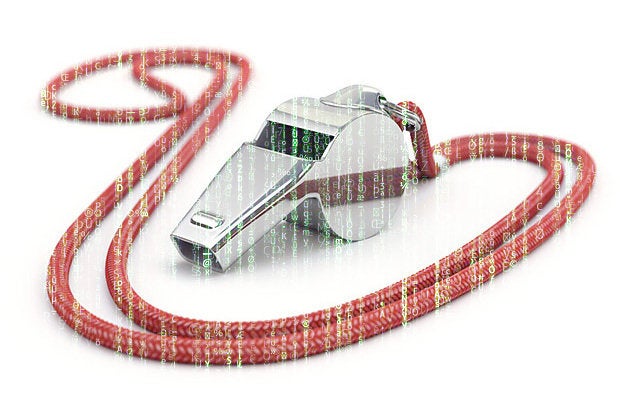 It is not a public problem yet. But according to multiple experts, it will be.
"It" is the cybersecurity whistleblower – an employee who sees a flaw, or flaws, in his or her company's network security, brings the problem to management but gets ignored or punished – marginalized, harassed, demoted or even fired.
And then the worker either goes public or files a complaint with a federal regulatory agency like the Securities and Exchange Commission (SEC).
Such a scenario is unlikely to end well – almost certainly for the company (if the complaint is credible) and perhaps even for the whistleblower, notwithstanding laws meant to protect them.
The company could face fines and other regulatory actions. The employee, who in some cases could be rewarded (the SEC offers 10 percent to 30 percent of a settlement of more than $1 million to "qualifying" whistleblowers), still might find it damaging to a career.
"Think about it. If you were someone classified as a whistleblower, it would label you unemployable," said one expert who declined to speak for attribution.
Another expert, who also declined to speak for attribution, said when he refused to certify that his previous employer was meeting a certain security standard, "I got warned, and eventually resigned. It became a hostile work environment."
He has never spoken about it to regulators or other outside authorities either.
Eddie Schwartz, international vice president of ISACA and president of WhiteOps, said he knows of a case where a nation-state hack occurred and an employee reported it to his superiors.
"He was told to mind his business and that the organization was dealing with it. It wasn't, and when he reported it to authorities, he was essentially fired for it," Schwartz said.
(Whistleblowers) can seek assistance through other authorities if that's warranted, but there is no one size fits all for these types of situations.
So the predicted increase in cybersecurity whistleblower cases is somewhat speculative at the moment, in part due to secrecy. There are no public cases involving them on record so far, even though most businesses have had an online presence for two decades or even longer.
They do exist, according to Debra Katz, a founding partner at Katz, Marshall & Banks. She said her firm has represented about a dozen such whistleblowers, but those cases were, "settled in the pre-litigation stage and contain robust confidentiality provisions." In other words, they are not public.
A second reason for a lack of clarity is that it remains a relatively new legal field. "All federal agencies – not just the SEC – are playing catch-up to align their policies with the seriousness of cybersecurity threats," Katz said.