Canary promises a sophisticated home-security system for the 47 percent
Contrary to what you might think, higher-income households are actually less likely to be burglarized, according to an analysis by the Department of Justice.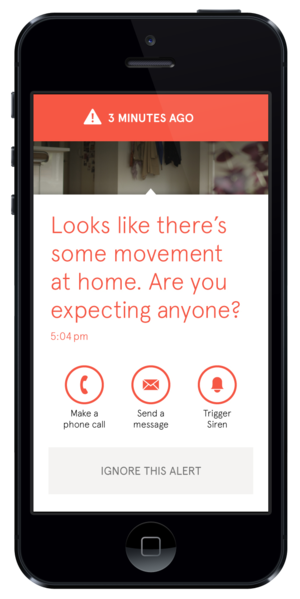 Canary's motion sensor and algorithms will learn to differentiate between you and your pets.
But you'll also be able to manually program the device using Canary's web portal. As Canary monitors events and records data, it will upload this information to a server in the cloud. The server will then be able to relay information about what's happening in your home to your smartphone.
As a security device, Canary can be armed while you're away and disarmed when you're home. It will also have a third state for when you're inside the home, but you still want security. In this mode, its sensors will evaluate only certain events, such as very loud noises. Sager claims the Canary's mic will be sensitive enough, and its accompanying algorithms sophisticated enough to differentiate between a door slam and a person screaming and will respond accordingly (setting off its siren and sending you an alert, for instance).
And while Canary's air-quality sensor won't pass regulatory muster as a smoke or carbon monoxide detector, it will be capable of reacting to alarms and sirens from devices that do. The temperature sensor could also alert you to a rapid increase in temperature indicating the probability of a fire. And while the Canary's humidity sensor won't be capable of detecting a leaking water pipe, it could alert you if the house becomes flooded. The accelerometer will be able to detect rapid movement, such as might occur if an intruder tried to disable the Canary, but it will also be capable of sensing vibrations in the home. Hmm. It would be interesting to see if it could detect earthquakes.
What it can't do
For now, Canary will not be capable of interacting with other systems in your home, such as your lighting, door locks, and HVAC. So unlike other inexpensive home-control systems now on the market, such as Nexia Home Intelligenceor Lowes' Iris, you won't be able to trigger lights to turn on when you open a door, remotely unlock your door using your smartphone, or program your thermostat over the Internet. On the other hand, the manufacturers of those systems expect you to pay a monthly fee, and Sager maintains Canary will have no subscription fees unless you choose options such as additional cloud storage or the aforementioned central-office monitoring.
I do see some other limitations in this device, but Sager maintains they're mostly conscious choices to keep the cost down. Most important of these is that Canary relies on AC power and has no battery backup (Sager says all the onboard sensors would drain too much power from a battery). If your power fails or you router goes offline, so does your security system (unless you plug both into an uninterruptible power supply, which is not at all a bad idea). If someone breaks in and disables it, you can hope that they were in view of the camera at the time. Today's more sophisticated security systems rely on cellular connections, so that a burglar can't cut power to the home to disable them. In the event Canary loses contact with the cloud server, however, Sager says it will send you an alert that the system is down.