With APFS, Apple focuses on storage efficiency in its OSes
The new Apple File System will span iOS, OSX tvOS and watchOS, but some question whether it's needed
Apple this week announced that macOS Sierra, its newest operating system for the Mac and the successor to OS X El Capitan, will include the next-generation Apple File System (APFS) and a bounty of data storage features for SSDs.
The new APFS will operate as a file system across all the company's platforms, including iOS, macOS, tvOS and watchOS, Apple said during a keynote at its WWDC 16 conference in San Francisco.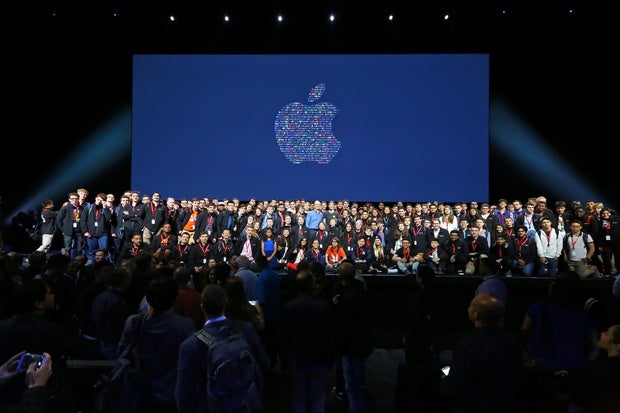 Apple Apple CEO Tim Cook on Monday surrounded by student developers at WWDC.
The new APFS includes data cloning for files and directories, as well as data snapshots, which offer a read-only instance of a file system on a volume.
Snapshots have been used for more than a decade as a data resiliency strategy in data centers because they can be used to make backups work more efficiently, and they allow systems to be restored to a given point in time.
Apple said its new OS and file system is optimized for NAND flash (SSD) storage, features "strong encryption" and will free up SSD space by automatically migrating older, rarely used files to Apple's cloud storage service.
Apple listed a plethora of older files that could be automatically migrated, including previously read ePub books, screenshots, full resolution photos, home and iTunes videos and podcasts, spreadsheets, Mac App Store apps, presentations and text/word processing files.
Rob Enderle, principal analyst at the Enderle Group, said he's not sure consumers will need or even want a device that automatically migrates their files and photos offline.
"Storage features on PCs are very difficult to sell," he said via email. "These may be features IBM and Cisco asked for, but they will likely have to market them for people to care and neither has done any user focused marketing for some time having divested or shut down their consumer/user focused efforts."
For BOYD users in the workplace, the automatic migration feature might even violate corporate security policies, Enderle said.
"As for the software automatically moving old files into the cloud, isn't this the same new feature of iTunes that got users so upset recently?" said Jim Handy, principal analyst at market research firm Objective Analysis. "Is it a good thing to do that on a computer?"
Technically, Handy said, anything that frees up space on the SSD or a hard disk drive "should be a good thing," as drives perform faster with more free capacity on which to write.
"This is an issue for iPhone users: The automatic software updates nibble away at the iPhone's storage until there's so little left that the device barely functions -- even if you have removed all of your own pictures, music, videos, and downloaded apps," Handy said.