Windows Phone's next life: How Microsoft could recast it for productivity or services
Microsoft's consumer phone business may be dying. So now what? It's time to move to Plan B, and even Plan C.
If Microsoft's Lumia smartphone line died, the company wouldn't mourn. By all indications, it's already preparing for a future where Windows phones could be reborn as business productivity devices, or even just as a collection of mobile apps.
Let's be clear: Microsoft does not want to kill its Lumia line, but it may be forced to. Last Thursday, Microsoft disclosed that Lumia sales had plunged to less than half what they were a year ago—during a quarter when Microsoft launched two flagship phones and its latest OS, Windows 10 Mobile. Fourth-quarter device revenue took a hit as a result. Meanwhile, Apple has reaped enormous profits from its iPhone and related services.

Iconic phones like the Lumia 1020 are now viewed nostalgically, rather than as a shape of things to come.
Plan B: Rebirth as mobile productivity tool
Windows Phone's apparent doom could have an alternate ending, though. The thorn in Microsoft's side has always been the lack of third-party consumer apps. Microsoft could keep struggling to lure apps to its ecosystem...or it could abandon the consumer market, wiping the slate clean.
Radical as that sounds, Microsoft's recent messaging has been laser-focused on productivity, from Office to Surface tablets, to its push into business intelligence, So it makes sense that Microsoft might rethink its phone as an entirely new device, optimized for business.
We could be seeing the broad outline of such a 'Plan B' coming together, if all recent rumors came true. That is, if Microsoft developed a next-generation phone companion to a Surface tablet, enlisted a trusted band of partners to make more hardware, and continued improving its mobile productivity apps.
Windows Phone fans are already praying for the mythical Surface phone, reportedly under development within Microsoft. Designed to complement the successful Surface tablet line, a Surface phone would succeed where BlackBerry failed, becoming the best phone to get stuff done.
If Microsoft delivered a phone on par with its Surface tablets—currently earning over a billion dollars per quarter for Microsoft, by the way—that would be a major step on the road to recovering its reputation. But a Surface phone may not appear for months, and Microsoft has to placate customers who want something sooner. Here's where some friends could pitch in.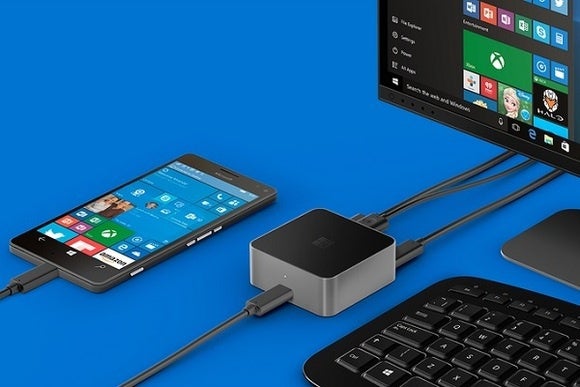 It's worth noting that the flagship feature of Microsoft's Windows 10 phones, Continuum, emphasizes productivity, rather than entertainment.
Historically, Microsoft has followed the playbook that Android wrote: Woo phone makers and persuade them to adopt Windows Phone. Aside from the HTC One M8 experiment, however, that strategy failed. So now a new plan is forming, along with a new team of partners: Acer launched the Liquid Jade Primo Windows Phone at IFA, along with its own custom Continuum Display Dock. Lo and behold, a Vaio-branded Windows phone is en route as well.