Windows 10 device roundup features Lumia smartphones with Display Dock
'No single device will be the hub,' CEO Nadella says. 'The hub is you.'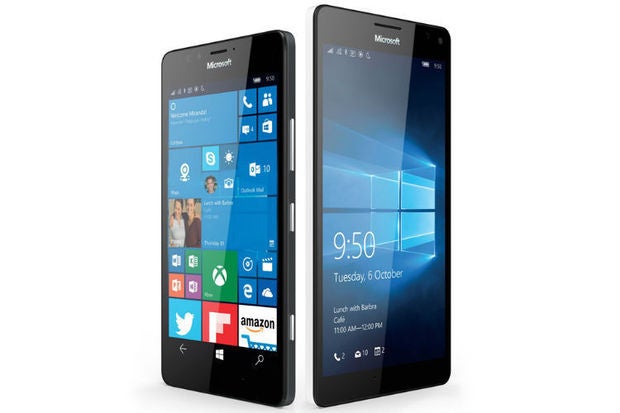 The Lumia 950 and 950XL. Credit: Microsoft
Microsoft on Tuesday jammed a range of new Windows 10 devices into a two-hour announcement -- everything from three new Lumia smartphones, a Microsoft Band 2 smart wrist wearable, a new Surface Pro 4 and its first-ever laptop, the Surface Book.
The 13.5-in. Surface Book, starting at $1,499 and available Oct. 26, might be the most compelling to the Microsoft faithful. Yet, there was a clear message from CEO Satya Nadella and others that Windows 10 Lumia phones, which only control 3% of the smartphone market, have an important place in Microsoft's Continuum world. With Continuum, apps and other software in Windows 10 are intended to run on all the new machines, opening up opportunities for IT, app developers and users.
"We're making progress toward moving people from needing, to choosing, to loving Windows," Nadella said. With the fastest ramp-up to Windows 10 of any prior Windows version (110 million devices running Windows 10 in just eight weeks), he said, "more and more people are coming home to Windows … We now begin a new chapter of Windows 10 with new devices built for Windows 10. We built Windows 10 for a new era of mobile computing. No single device will be the hub of activity. The hub is you."
The Lumia smartphone's prominence in that Windows 10 product line had been called into question by analysts, mainly because it has taken Microsoft several years only to earn a 3% global market share for its smartphones. But Microsoft attempted to show how a Lumia smartphone can become like a desktop PC when connected to a desktop display and keyboard through a new Microsoft Display Dock.
In an onstage demonstration, the dock was used to edit a PowerPoint presentation on a large display with a keyboard and mouse connected to a new Lumia device. Pricing and availability of the dock weren't immediately available.
The new Lumia 950 and Lumia 950XL start at $549 and $649, respectively, but Microsoft also announced the Lumia 550, a more-affordable LTE smartphone priced at $139. The 950 and 950XL will ship sometime in November and the 550 in December.
New features of Microsoft Band 2 include a curved display and a barometric sensor to measure altitude changes for extreme athletes. The Band 2 will cost $249 and will be available Oct. 30.
The Lumia 950 and 950 XL are "the most productive phones on the planet," Nadella said. "You can run your entire business on them. In developing markets, they can be your first or only computing devices."