Wi-Fi vs. LTE could be the start of a mobile rollercoaster
More mobile services will start sharing spectrum, so your speeds could vary more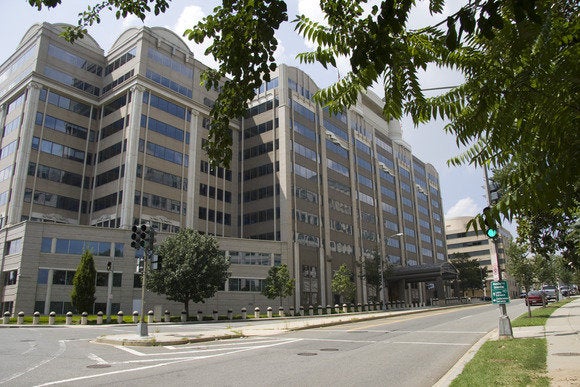 The Federal Communications Commission's headquarters building in Washington, D.C. Credit: Federal Communications Commission
The long fight over LTE networks sharing frequencies with Wi-Fi may be just the first of many battles as device makers and service providers try to make the most of the limited available spectrum.
Around the world, regulators and industry are working on how to let different kinds of networks use the same spectrum. The new techniques and policies they use should lead to better mobile performance in some areas, but it's also likely that wireless performance will fluctuate more as you move around.
LTE-U has grabbed headlines because it involves licensed carriers using some of the channels that consumers depend on for Wi-Fi service, which often is free or runs on users' own routers. Wi-Fi supporters cried foul last year after Qualcomm and some U.S. carriers proposed the technology, and it took until last month for the two sides to reach an apparent peace agreement.
LTE-U products could start getting certified soon with a battery of coexistence tests. But this won't be the last time mobile users find the services they rely on forced to coexist with other technologies. Growing demand for wireless capacity, plus the runaway success of Wi-Fi as an example of a new approach to spectrum that worked, are bringing more players to the table in many cases.
Though new technologies make spectrum-sharing more feasible, exactly how these schemes will play out isn't clear yet.
"It's a very crowded world, and we are adjusting our expectations for how these things are going to work together," said Harold Feld, senior vice president of the U.S. consumer advocacy group Public Knowledge, on a recent LTE-U panel discussion.
Interference issues used to be relatively simple, Feld said. If one operator held a license, anyone else had to get off the frequency. If the spectrum was unlicensed, every user had to accept interference and not do anything to monopolize the band.
LTE-U raised new questions, because even though the 5.8GHz band where it operates is unlicensed and was set aside to allow room for innovation, this wasn't a question of two small, experimental technologies vying for space. Millions depend on Wi-Fi today, and at least two major U.S. carriers – Verizon and T-Mobile – want to roll out LTE-U to supplement massive cellular networks.
Wi-Fi and LTE use different methods to keep order among wireless channels. If unmodified LTE networks were unleashed in an unlicensed band, the effect would be "devastating," said Patrick Welsh, Verizon's assistant vice president for federal regulatory affairs, during a panel discussion last month.
Verizon wanted to use the 5.8GHz band for extra capacity, so it brought together engineers from its equipment suppliers to develop LTE-U, Welsh said. That technology is available for use primarily in the U.S., South Korea, China, and India.