Why is Apple avoiding wireless charging?
Imagine walking into a room where your Apple Watch immediately begins charging.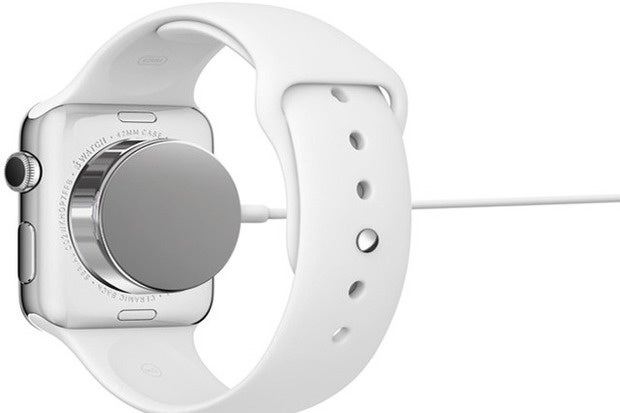 The Apple Watch uses a magneticly attached cord and tightly coupled magnetic induction to charge -- not exactly wireless technology.Credit: Apple
First, the iPhone 6 arrived last year without it. Now, comes the Apple Watch. Same story. Wireless charging seems to be something Apple's going to wait on even as major mobile manufacturers adopt it.
Last week, Samsung announced that its Galaxy 6 and S6 Edge smartphones will have wireless charging. Two years ago, the Windows Phone 8-based Lumia 920 smartphone had wireless charging. So it's not as if it's not becoming a more mainstream technology.
The list of smart phones that offer wireless charging is enormous.
Some even speculated the iPhone 5 would have wireless charging when it came out more than two years ago.
From a purely technical perspective, the Apple Watch uses wireless charging in the form of tightly coupled magnetic induction. Butt he device is still tethered to a charging cord. It's the same kind of technology was used more than a decade ago to charge electric toothbrushes. In the Apple Watch's case, a user must attach the power cord magnetically to the rear of the mobile device.
Considering the daily lifespan of the Apple Watch's battery -- 18 hours -- a wearer will have to plug the watch in at least once a day for charging. Big deal? Well, imagine having to plug your typical wristwatch in once a day.
The advantage to loosely coupled magnetic resonance technologies -- found in a number of top-selling charging pads -- is that a user need only drop the mobile device onto a surface to charge it. There's no need to worry about the X- or Y-axis placement of a device. You can also charge more than one device at the same time.
Furniture retailers, such as IKEA, have seen the advantage to wireless charging and are are beginning to include the technology in coffee tables and nightstands. Carmakers are also embedding wireless charging in their vehicles.
William Stofega, a mobile phone analyst with IDC, believes Apple is still waiting on the wireless charging standards wars to be settled before choosing a winner.
Currently, there are three major charging standards that the mobile industry is supporting: Qi, which is supported by the Wireless Charging Consortium (WPC); Rezence, which is backed by Alliance for Wireless Power (A4WP); and Powermat, which is backed by the Power Matters Alliance (PMA).
The A4WP and the PMA have joined forces against the larger WPC and now share their specifications, which allows wireless charging manufacturers to use both loosely coupled and tightly coupled standards as well as data-sharing technology in products.