Why I don't subscribe to Apple Music
Apple's streaming service may have 11 million users, but not everyone is a fan.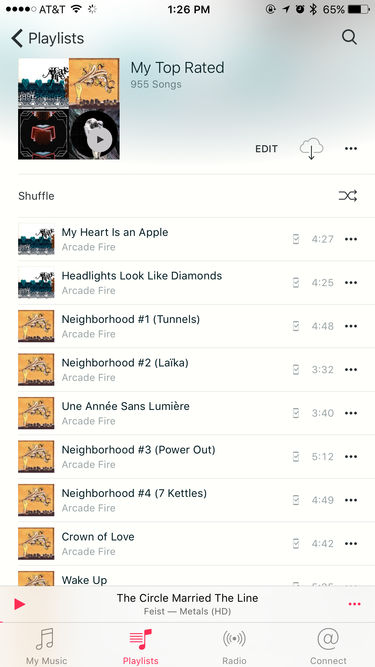 One of my iTunes playlists.
While cancelling your Netflix or Hulu subscription will cut off access to movies and TV shows, that content isn't being picked and placed into playlists I use daily. Music is a different beast. Cancel Apple Music and your carefully curated music playlists - potentially years of working in the making - will be shot through with gaps from songs no longer accessible; I'm not comfortable with that.
Perhaps I just have a fear of commitment.
No doubt, my habits are different than those who like streaming services. When I find something I like, I still purchase CDs and rip them to my computer. But I transcode music using the Apple Lossless Format (ALAC), which promises to retain the full dynamic range of a song without muddying up the sound with compression that's inherent to most encoding formats -- even the ones offered by Apple on the iTunes Store.
Quality vs. quantity
Compression can produce smaller tracks -- which is good for downloading -- but it comes at the cost of sound quality. The more compressed a music file is, the more muddied and flat the track sounds. The trick is finding a balance between file size vs sound. Initially, the iTunes Music Store sold tracks with 128kbps encoding; that was doubled to 256kbps a few years later, where it remains. Spotify's premium service offers songs encoded using the Ogg Vorbis compression format at 320kps, theoretically offering higher sound quality due to the higher bitrate and less compression. Another service, Tidal, offers lossless music format for streaming; songs are encoded using FLAC at 1.4Mbps. (That premium plan, by the way, will cost $20 a month.)
While many people are satisfied with the size/quality balance offered by streaming and digital-purchasing stores, I have been careful in recent years to make sure my music is kept in a lossless format to future-proof my library. I made this realization after seeing how quickly lower-resolution digital photos taken just a few years ago have held up, especially with the arrival of ultra high-resolution screens. I don't want something like that to happen with my music collection.

I always write with Dark Side of the Moon playing in the background. Credit: Michael deAgonia
If there were ever a higher-quality streaming option, such as the option for the aforementioned Apple Lossless Format, or something similar that isn't based on a heavily compressed format, I might be open to readdressing this issue, and perhaps even signing up. (I'm not interested in Tidal's feature set and price points.) After all, the thought of accessing millions of titles is compelling, and not having to rip and store all of those tracks would free up a ton of storage space on my various computers, devices and hard drives.