Why a small iPhone could be a big moment for Apple
Apple's rumored iPhone 5se could find the sweet spot between size, features, and price.
People's choice
When the iPod began to take off, Apple made a very uncharacteristic decision. Instead of continuing to focus on high-end users with higher capacities and killer designs, it tackled all segments of the market, first with the iPod mini, and then with the shuffle and nano. At the height of its popularity, there was an iPod for every want and wallet, which no doubt contributed to its ubiquity.

The high end isn't the only place to grow a product line.
The iPhone 6 Plus followed a similar plan, but instead of going after a lower-range segment of the market, Apple doubled down on premium. It was a smart move, one that not only resulted in record sales, but also solidified the iPhone as the top luxury handset on the market. Apple sold more than 200 million iPhones last year, and it's not too big of a leap to think it wouldn't have had such robust numbers without the Plus, even if it does cost more than customers were used to spending for an iPhone.
So far, Apple hasn't priced a current-generation iPhone less than $500, a price point that could very well be a psychological barrier for hold-outs. Especially in the age of disappearing contracts–where the full price is no longer hidden under subsidies–a less-expensive iPhone that isn't saddled with outdated technology could provide a serious boost to Apple's sales numbers.
A new 4-inch iPhone wouldn't just give iPhone 4 and 5 lovers a reason to finally upgrade, it would expand the line to anyone who has balked at buying a smartphone that costs more than a tablet. And much like the mini opened up the iPod line to more casual music lovers, a new small iPhone just might be the push millions of feature phone and iPod touch users need to get over the fence.
Eye on iOS
Apple doesn't like to deviate from its iPhone schedule. The last time it did so was in January 2011 with the Verizon-compatible iPhone 4, the same year it shifted the update from spring to fall. The annual September event timeslot–which was previously reserved for the iPod–has belonged to the iPhone since the 4s, and I don't see a rare midcycle iPhone changing that.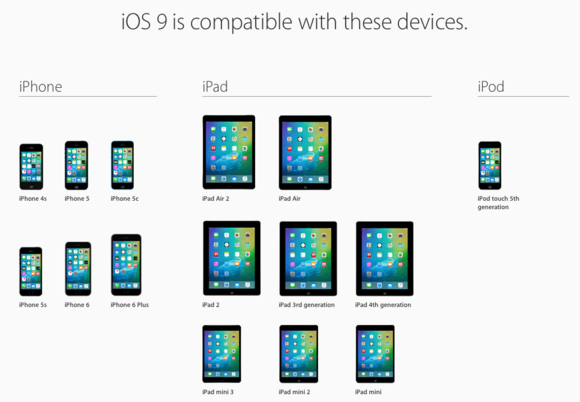 iOS 9 officially supports every device iOS 8 did, but we might not be so lucky with iOS 10—all the better to have a 4-inch phone with modern components that could run it. (Click to expand.) Credit: Apple
But the yearly iPhone release isn't only about the latest hardware. Apple takes a great deal of pride in delivering fresh iOS updates to years-old handsets, but with each version another model falls off the list. And since Apple optimizes and designs iOS around the latest iPhones, the experience suffers some on older models that do support it.