Whink review: Full-featured, easy to use writing app hits all the right notes
Whink is a note-taking app equally proficient at handwriting and typing.
However, I'm happy to report Whink does an excellent job writing with just a finger, offering pressure sensitivity on 3D Touch-enabled devices, which worked pretty great on my iPhone 6s Plus. Typing is equally fast and fluid—tap anywhere on the page to start writing outlines and lists with bullets, numbers, or checklists. A handful of predefined typestyles are included, but size, font, and color can be independently adjusted.
Whink's third and final mode strips everything away to provide a clutter-free reading experience, retaining only search and highlighter tools. 3D Touch is also supported on two other fronts: Quick Actions on the home screen, and peek and pop for documents previews. The app is optimized for iPad Pro (including Split View multitasking) with handy pop-up tool tips, an option unavailable on the iPhone version.
I'm impressed by how quickly the developer has adopted Apple's latest technologies, but there's still work to be done—buttons on the iPhone version are a little small, for example. Whink lacks extension support for marking up images from the Photos app, a Notification Center widget, and the ability to send web pages directly to the app; companion versions for web or Mac would also be a welcome addition.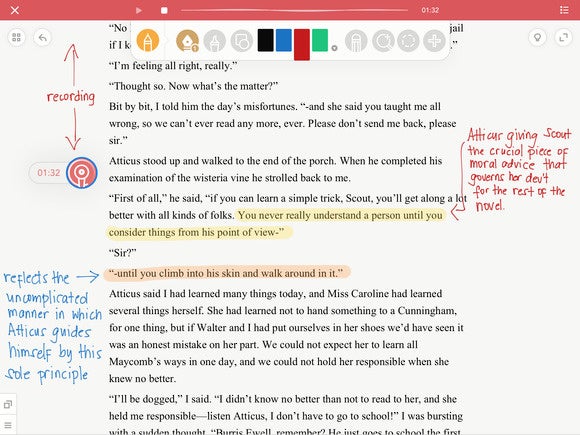 With an optional free in-app purchase, Whink can also record audio alongside notes, although you can't currently import sound from other apps.
Bottom line
Nearly as versatile as Evernote but without the feature bloat, Whink is a versatile, well-designed app for writing or typing stylish notes with minimal effort.