Which streaming music service is best for your Android phone?
Spotify, Google Play Music, and Apple Music: We put the top apps through their paces and pick the best on-the-go option.
At least Apple Music offers a great matching feature: you can sync your non-DRM-limited PC or Mac music stash to the iCloud Music Library and the service will automatically put everything it offers into your cloud library. Anything that's not on Apple Music will be uploaded to your personal cloud, letting you still access that music on the go. In short, everything you put in the cloud will be accessible in one way or another—up to 100,000 songs.
Google Play Music has a limit of 50,000 songs for its similar feature, and as with Apple Music, you can upload stuff that isn't on the service and still listen to it anywhere. You don't even need a paid subscription to access that stuff, amazingly. Spotify comes up short, by comparison: you can sync over local files from the desktop version via a playlist, and then save that for offline playback, but you can't put your own music in the cloud to access from multiple devices.
Exclusive perks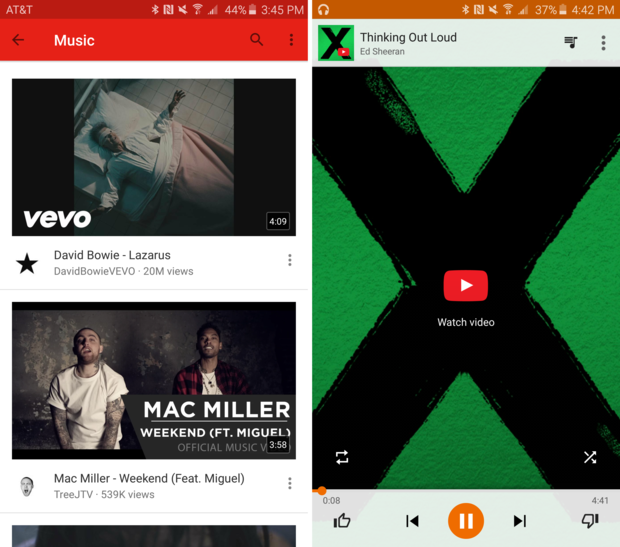 YouTube Red access comes free with Google Play Music, and some videos are linked directly to the songs.
Each service has unique functionality that could be enough to sway you in one direction or another. For its shortcomings elsewhere, Google Play Music benefits hugely from the fact that you now get a YouTube Red subscription as part of the deal. That kills the ads from YouTube, adds offline mobile playback, and lets you access exclusive content. And since YouTube music videos are implemented in Play Music, it's a perk you could end up using a lot.
Apple Music, meanwhile, tries a very different approach with Beats 1, its live streaming radio station. Headed up by ex-BBC DJ Zane Lowe, it's a throwback to terrestrial radio featuring hot single debuts and top artist interviews. It also has weekly shows from industry legends, such as Elton John and Dr. Dre. Apple Music offers up its own music video library, as well, but not on Android: the beta app doesn't have that functionality just yet.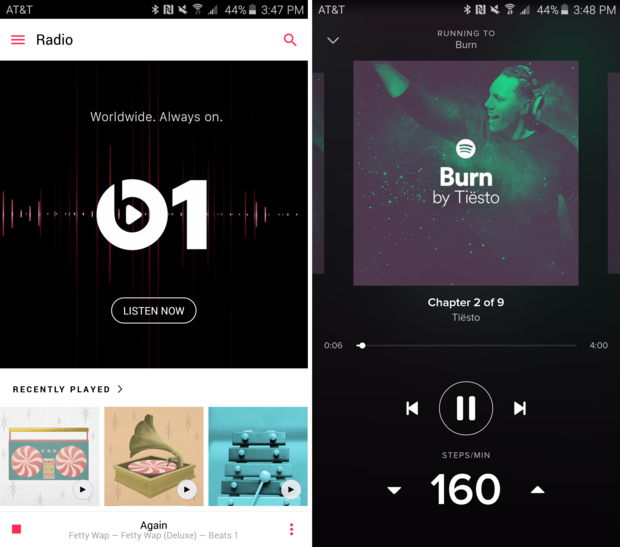 Apple Music's live Beats 1 radio station is a streaming anomaly, while Spotify Running is built to keep you moving.
And Apple's service is currently the only one of these where you'll find Taylor Swift's latest album, along with her new concert documentary. That's because it's the only service on this list that has no free subscription tier, and that move could result in more top artists doing the same in time. But for now, she's the highest-profile defector from the other services.
Spotify's unique elements include better ways to get fit and be social. The Running feature not only lets you easily queue up music that matches your current tempo, but also provides motivating new compositions from the likes of Tiësto and Ellie Goulding. And just recently, the service added a new Party mode that lets you quickly shift the mood of the music with the flow of your gathering. It's not a mind-blowing feature, but rather a cool little trick that may save you a few moments of fumbling at your next bash.
Previous Page 1 2 3 4 5 Next Page