Which streaming music service is best for your Android phone?
Spotify, Google Play Music, and Apple Music: We put the top apps through their paces and pick the best on-the-go option.
Discoverability and curation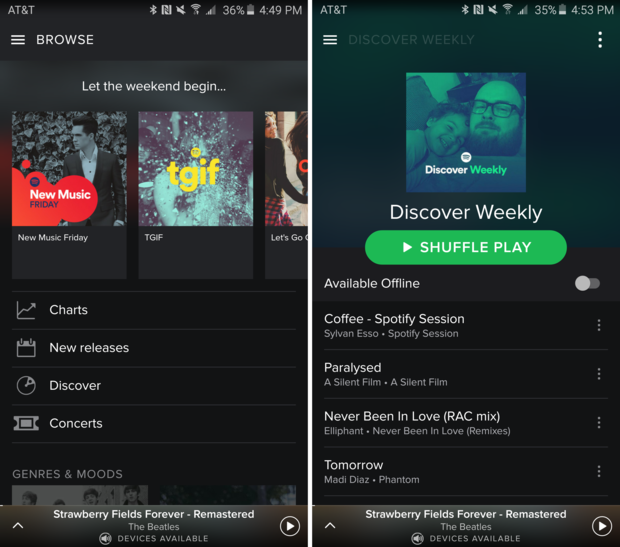 Spotify's "Browse" hub points you in all sorts of helpful directions, including a refreshed weekly playlist of new tracks to try.
Both Spotify and Apple Music do a pretty good job of pointing you in the direction of things you might like, and mining your listening habits to suggest new and interesting music to try out. As mentioned above, Spotify's "Browse" screen is the main home for discovery, and it tosses up themed playlists, access to recommendations, suggestions of similar artists to those you've recently listened to, and even a weekly playlist of intriguing new tracks to check out.
Still, this is one area in which Apple Music goes above and beyond. The "For You" screen is all about recommendations tailored to your library and listening habits, with unique playlist themes that go beyond just artists and hits—for example, songs produced by Kanye West, musicians inspired by a certain seminal band, or a focus on a very precise era and sub-genre of music.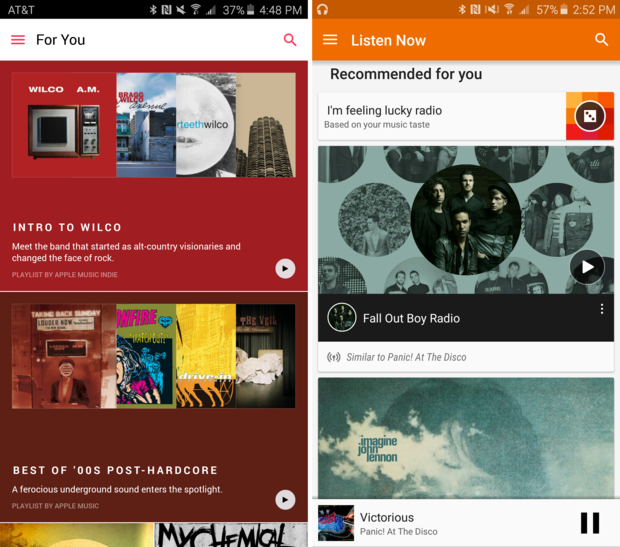 Apple Music's playlist recommendations tend to have a bit more variety in topics, while Google Play Music usually offer more obvious (and less creative) pointers.
Curated playlists are a key component of Apple Music, with all sorts of interesting lists put together by Apple and even notable music publications. And the live Beats 1 radio station is something you can't get from other services: sets of music assembled and presented by real, professional DJs.
Sadly, this is another area where Google Play Music just doesn't stack up—or try to, really. It has themed playlists (like "Throwback Thursday" and "Boosting Your Energy") that pop up during appropriate times of the day/week, but they're broad and don't show much of a personal touch. And when it recommends an artist, you're often just pointed to an automated radio station. That's a pretty meager approach to turning users on to new tunes.
Integration and matching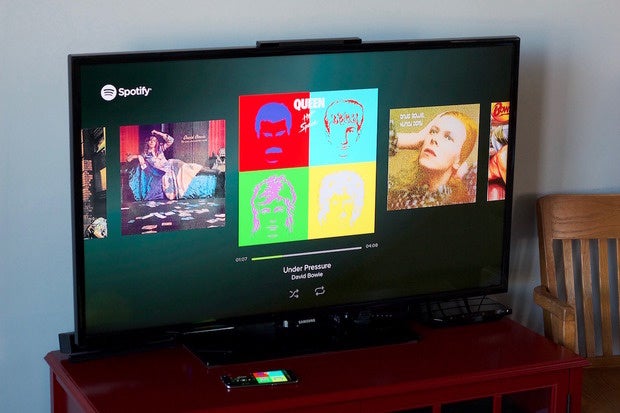 Spotify and Google Play Music both let you cast with ease; not so with Apple Music.
Both Google Play Music and Spotify are pretty well embedded within the Android ecosystem: you can speak out commands to Google Now, for example, and go directly to a song, artist, or album within either app. And both have Chromecast support, making it easy to stream your music directly to a TV or speaker system using either the standard or Chromecast Audio dongle.
Unsurprisingly, Apple Music isn't compatible on either front—not yet, at least. While Apple did a nice job adapting its app interface for Android, the company hasn't embraced the finer points of Android use, and you can't use Google Now or a Chromecast with it.
Previous Page 1 2 3 4 5 Next Page