Which streaming music service is best for your Android phone?
Spotify, Google Play Music, and Apple Music: We put the top apps through their paces and pick the best on-the-go option.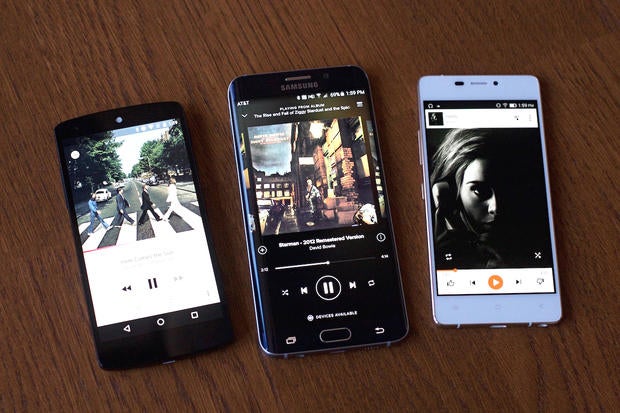 Streaming music has quickly become the norm for phones, as unlimited services deliver tens of millions of songs with immediate access (plus offline playback). Why use up all your storage on a local library when you can pluck an even wider array of songs and albums from the cloud?
Luckily, you've got options—lots of them, really. Pandora and iHeartRadio deliver free custom radio stations, Tidal caters to audiophiles with optional hi-res streams, and even Amazon lets you access a million-plus songs with a Prime subscription. But when it comes to on-demand streaming with a huge vault of songs to choose from, most users are likely to gravitate towards the big three of Spotify, Apple Music, or Google Play Music.
All three have more than 30 million tracks, a $10/month price tag for full access, and similarly good sound quality (to the average ear)—but which really offers the best on-the-go experience for Android owners? We put the three mobile apps head to head in usability, discoverability, Android integration, and other aspects, and then picked a favorite.
Interface and navigation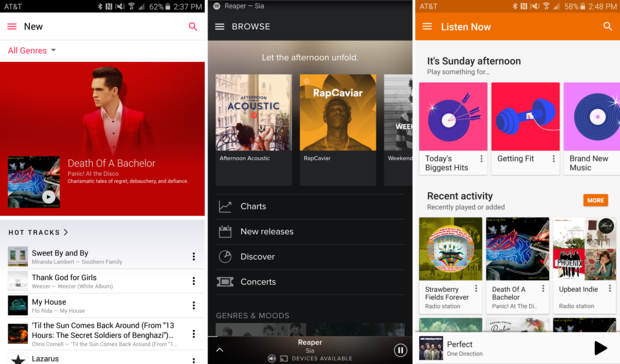 From left: Apple Music, Spotify, and Google Play Music
Apple Music's clean, white-heavy interface is easy on the eyes and packs in a lot of different content without feeling overbearing. The "New" page, for example, flits between large graphics for new releases, multiple charts of top tracks and albums, playlist suggestions, and more. It's not only attractive, using album and single covers to nice effect, but also easy to navigate.
That's not always the case once you dig deeper into the interface. For example, finding your way to an artist's page from a currently-playing song means fumbling through a couple menus—perhaps more if you don't know where to look. There's no direct route for what should be an obvious link, and there are similar head-scratching navigational lapses elsewhere.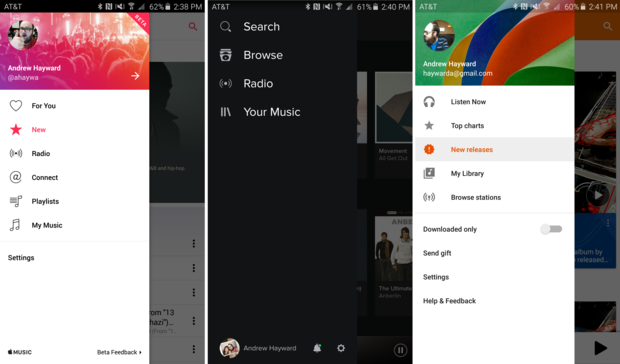 All three have the familiar pullover/hamburger menu to switch between screens.
Spotify, by contrast, uses its main hub (the "Browse" screen) to push you into other charts, screens, and categories. That adds a couple taps when you're looking to pull up a list of top songs or see new releases, but Spotify's interface is pretty easy to understand overall. You can get to an artist, album, radio station, or playlist in a hurry from the now playing screen, and where Apple Music feels a little clunky in navigation, Spotify is mostly intuitive to use.
Compared to those two, Google Play Music isn't a particularly harmonious or eye-catching experience. The "Top Charts" and "New Releases" pages are entirely separate sections accessed from the pull-over menu, and in places the album artwork is so large that it slows down browsing (like on the album charts screen), or is awkwardly stretched. The interface is usable, but Google's app lacks fluid navigation and any sort of distinctive look.