Where are the wearables you wear elsewhere?
Nearly all the wearables on the market are fitness-enabled smartwatches. Here are some awesome alternative gadgets.
Jewelry
An Indian startup called Leaf Wearables sells a line of smart jewelry that includes a $60 pendant, bracelet and key chain. Each device revolves around a big fake jewel. By squeezing the jewel twice, Leaf Wearables (working through a Bluetooth-connected smartphone app) notifies your list of emergency contacts with a text-based "SOS" telling them you're in danger and giving the location. They can track you on a map over time as well. If you look at your phone, you can see the nearest hospitals and police stations. The Leaf battery lasts a week between charges.
Wearsafe Labs
The Wearsafe tag is a panic button that places your emergency contacts into a chat room, where they can hear a live audio stream of your situation -- and call 911 if necessary.
Another panic-button wearable comes from a Connecticut-based startup called Wearsafe Labs. Their wearsafe is a clip-on device called the Wearsafe Tag, and works with a smartphone via Bluetooth. By pressing a large button on the device, you alert your network of family and friends about your location via text and email. It also streams audio, so they can hear what's going on. (It also has an optional auto-DVR function, which means it's constantly buffering audio, then streams the audio beginning 60 seconds before you pressed the button.) When alerted, your contacts are linked to a dedicated "chat room" where they can talk to each other about your situation and decide what to do. The Wearsafe is free, but requires a $4.99 monthly subscription fee.
Pins Collective
The Pins Collective pin is like any sort of promotional badge you might wear, but it can display anything, from a photo to text to a GIF.
A Swedish startup called Pins Collective is crowdfunding what is effectively a $69 smart badge. It's a screen for communicating with the world using graphics, including motion graphics, which you can set on the accompanying app. You can use your words, or upload a graphic or photo. You can use it as a nametag, or to support a cause or campaign. Advertise your website or business. Make yourself easy to identify when you're meeting strangers. Pins Collective reportedly intends to launch a PinOS platform and a SDK this year, and the product should ship in February.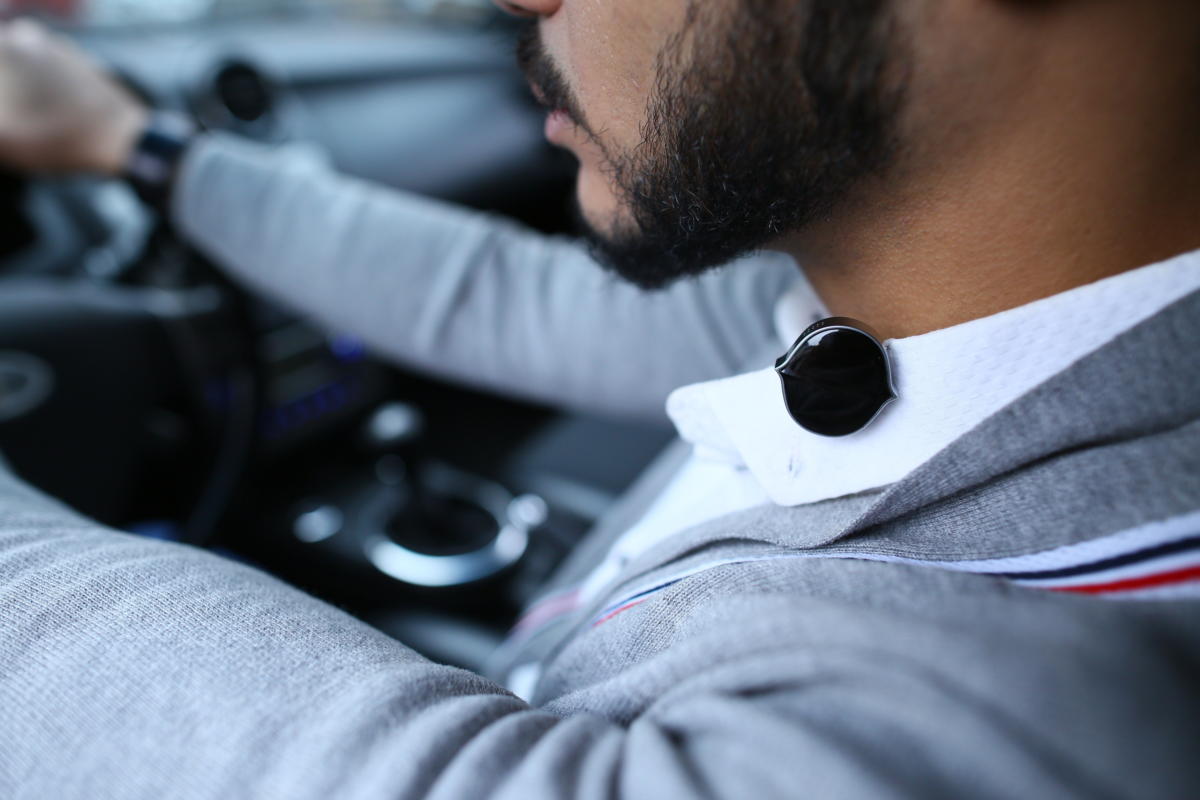 Senstone Inc.
The Senstone can be worn just about anywhere, and records your voice notes with the push of a button.
The Senstone is a pendant that can be worn as a clip-on, necklace, bracelet or carried as a keychain. By pressing the button or snapping your fingers, you record voice memos, which are translated into text on the app and automatically organized, according to the company, Senstone Inc. Like most wearables, it connects to an app. But unlike most, it still works even if your phone is off or elsewhere. It can record up to two hours of your yammering, which are transferred and processed later when the phone is in range. The company expects to ship in the spring.