What we expect from Microsoft's massive device launch: new Surfaces, Lumias, and Band
But we have a hunch that the software is going to be the real star (or goat) of the launch.
Warren also suggests that Microsoft could be preparing a monster of a surprise: a full 14-inch "laptop"-y version of the SP4, compared with the 11.6-inch display we're used to with the Surface Pro 4. This is a reasonable and intriguing possibility, though you'd have to balance a larger size's greater productivity against its impact on portability.
One angle slightly worries me: Six months ago, a USB-C connector was considered the hot new I/O direction, because of its blazing throughput, ease of use (you can align a USB-C connector in either direction) and the fact that you can route power through it as well. The SP3 has just one USB-3 port. The problem is this: there aren't any USB-C charging-and-I/O dongles available today. If an SP4 includes just one USB-C port—and we don't know if it will—you won't be able to charge the tablet and use it to drive an external display until those dongles ship.
Finally, there are the other Surfaces you need to worry about—the ones that don't come from Microsoft. Lenovo already announced its Miix 700 at IFA, which falls between the Surface 3 and the Surface Pro 3 in terms of specs. VAIO (the spinoff brand formerly owned by Sony) has its own Surface clone, the $2,199 VAIO Z Canvas, and we're hearing rumors of yet another waiting in the wings. Ladies and gentlemen, the Surface clone is going to be a thing.
Lumia 950, Lumia 950XL, and Lumia 550
At this point, what don't we know about Microsoft's new flagship phones? A Microsoft presentation in Spanish has described the phones in detail. Then Microsoft did, itself, on its own Store page. About the only discrepancy is that the midrange Lumia 550 appeared on Microsoft's Latin America leak, while that phone was omitted from the United Kingdom's Microsoft Store page.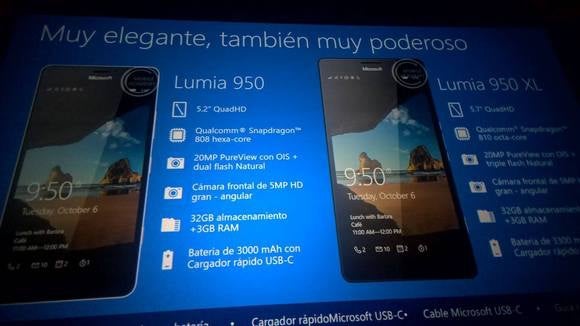 Most of the specifications of Microsoft's phones have already leaked... Credit: Forever Nokia Latin America
To recap:
Lumia 950
Display: 5.2 inches, QuadHD
Processor: Qualcomm 6-core Snapdragon 808
Camera: 20MP PureView rear camera with optical image stabilization (OIS) and dual flash; 5MP HD front camera
Storage: 3GB RAM, 32GB internal storage
Battery: 3,000 mAh, with rapid charging via USB-C
Lumia 950XL
Display: 5.7 inches, QuadHD
Processor: Qualcomm 8-core Snapdragon 810
Camera: 20MP PureViw rear camera with OIS and triple flash/5 Mpixel front camera
Storage: 3GB RAM, 32GB internal storage
Battery: 3,300 mAh, with rapid charging via USB-C
Lumia 550
Display: 5 inches, HD resolution
Processor: Qualcomm quad-core Snapdragon 1GHz
Camera: 5MP rear autofocus camera with flash; 2MP front camera optimized for Skype
Storage: 1GB RAM, 8GB internal storage; 128GB microSD card
Battery: 1,905 mAh with rapid charging
All of these phones will be designed to run Windows 10 Mobile, Microsoft's upcoming version of Windows 10 for phones and tablets.
Previous Page 1 2 3 4 Next Page