What they're saying about the Amazon Fire Phone
The first reviews of Amazon's first smartphone are in, and we hope Jeff Bezos is open to constructive criticism.
The one area where the Fire phone earned more praise was its Mayday feature, which lets users call up a friendly tech support agent on video chat just by hitting a button. "I called up Mayday four times to pepper its agents with questions," Farhad Manjoo of the New York Times wrote. "In every case, a person popped up on the screen in under 10 seconds."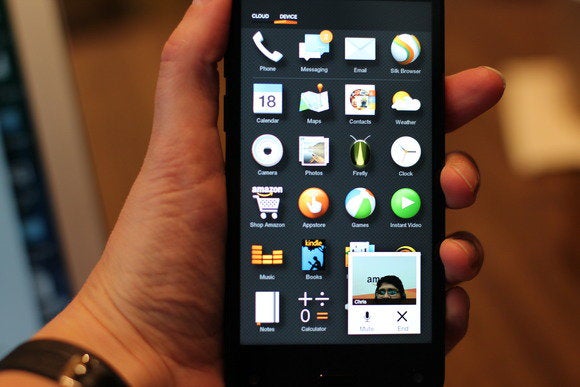 IMAGE: SUSIE OCHS. Mayday, a feature brought over from the Kindle Fire tablets, looks like a winner.
The Fire Phone's camera gets a thumbs up
Reviewers were also mostly pleased with the Fire phone's camera, which aims to keep things simple instead of bogging users down with features. "The included camera app is pretty basic and doesn't expose manual controls, but most of the time the camera doesn't need them," Andrew Cunningham of Ars Technica wrote. It's also worth noting that the phone included unlimited cloud photo storage.
Still, the camera isn't head-and-shoulders above Apple's iPhone 5s and Samsung's Galaxy S5, despite Amazon's claims to the contrary. Laptop Mag's Michael Prospero wrote that white objects in bright lighting can get blown out, and nighttime images can be grainy.
Most reviews praised the Fire phone's interface as smooth and responsive, thanks to a 2.2 Ghz quad-core processor and 2 GB of RAM, but battery life was a major problem. "The phone usually died after about three-quarters of a day's ordinary use--calling, surfing, emailing, mapping and listening to music--and often got warm to the touch," wrote Geoffrey Fowler at the Wall Street Journal.
There's not a lot of software and services for the Fire Phone
Many reviews pointed out the obvious, that Amazon's app ecosystem is smaller than those of iOS and Android, and doesn't have any apps from Google. But on a more basic level, the Fire phone also lacks a lot of the features you'd expect from a modern phone, like turn-by-turn walking directions, a long list of supported voice commands and more descriptive thumbnails in the multitasking switcher.
Many of the features that are missing are things that are new to FireOS, so it's not totally surprising that they're less refined when compared to what's available on other platforms," Ars Technica's Andrew Cunningham wrote. "That's what you get into when you're launching a new phone platform in 2014, though: your biggest competitors have been doing all of this stuff for at least a few years, and your version 1.0 stuff has to stand up against someone else's version 8.0 stuff."
But for at least one reviewer, the value of Amazon's Prime services trumps those drawbacks for a certain demographic. As Kevin Tofel at GigaOM points out, the phone is easy to operate, and may appeal to heavy Prime users--such as his wife--even if it lacks the features of iOS or Android. "It's not the Dynamic Perspective or one-hand gestures that appeal to my wife, although she did start to like the auto-scrolling for webpages after a while," he wrote. "It's the Apple-like simplicity of the Fire Phone in an ecosystem that she's already embedded in."