What developers want from iOS 10
Apple is expected to take the wraps off the next version of iOS, tvOS, watchOS, and OS X at WWDC. We spoke to some app developers to find out what's on their wish lists.
But Seelemann isn't so sure a Siri API is in the cards. "How would an API have to be formed that represent this manifold of input?" he asked. "Would developers have to care about all the languages Siri is localized into? I wouldn't be surprised if it still takes years for an API."
Similarly, Ken Wong, who helped created the sublime Monument Valley, thinks a Siri API is "probably unrealistic," but Hosam Hassan, lead software engineer and co-founder of Taphive, home to TodoMovies, is a bit more optimistic. "I would expect a Siri API to work somehow like the Spotlight API in iOS. Basically developers can provide content to Siri to search and connect the content to certain actions. For example, you can ask Siri to search for a movie then add it to your watch list in TodoMovies or create a to-do item and add it to a third-party app."
And he has one Siri-related wish that has nothing to do with his own apps: "Imagine if Uber is integrated with Siri, how cool is that!"
Better App Store
It doesn't matter how powerful the next generation of apps are if no one can find them. Apple's App Store search issues are well-documented, and above any API or framework, the developers I spoke to want to see it cleared up sooner rather than later.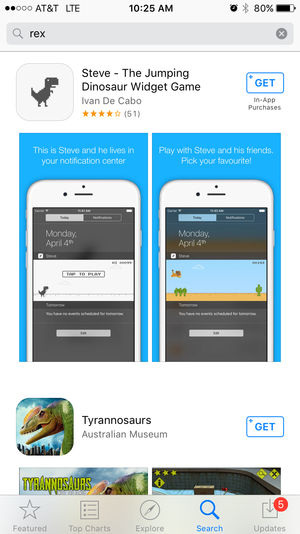 Earlier this month, App Store search just broke. (It's working again, but still needs a lot of improvement.)
"Above all, we know Apple is working on App Store discovery and search, and I hope to see some exciting new stuff there," said Dave Baggett, creator of Inky Mail. "Search is hard, and a lot of good apps are getting lost now that there is so much in the App Store. That's bad for developers, bad for the ecosystem, and bad for users."
"Discovering an app in the App Store has always been a problem for users," echoed Karthik Suroju of CloudMagic. "Search on App Store is broken. For example, a search for 'email' will bring up a lot of unrelated apps."
But discovery isn't the only thing Suroju and his team want Apple to beef in iOS 10. Equally frustrating, he said, is the review process. He'd like Apple to provide a mechanism for responding to reviews, as well as rethink the way scores are tallied. "If you have an app for a year at five stars and 1,000 reviews, too bad. All that information disappears and becomes zero when you publish a bug fix update. That is a powerful incentive to not fix app problems."
Similarly, Wong also sees app discovery as "a huge problem for developers," and has a few ideas on how Apple could improve it. "A recommendation system like Netflix or Spotify is really what's needed to get new games and apps in the hands of the people who would be interested in them. The ability for users to make 'playlists' or 'collections' of apps that are shareable would also be a boon."
Previous Page 1 2 3 4 Next Page