What developers want from iOS 10
Apple is expected to take the wraps off the next version of iOS, tvOS, watchOS, and OS X at WWDC. We spoke to some app developers to find out what's on their wish lists.
When it comes to WWDC, we all have a little developer in us. Apple's biggest annual event may be targeted to app designers and coders, but you don't need to know how to declare a string-type variable to get caught up in the hype. In the weeks leading up to the kick-off keynote address, everyone has an opinion on what Apple should bring to iOS and OS X, and right on cue, there are already a lot of great ideas floating around, from dramatic Control Center revamps to smarter and more versatile ways to handle files.
But while it's fun to imagine what our iPhones will be able to do in the fall, for developers, WWDC is indispensable. When Tim Cook and Craig Federighi break down the newest features and technologies, they are providing app makers with the tools they'll need to prepare their apps for the future. Developers look to WWDC to not just bring design and productivity improvements, but to also supply a new set of blocks on which they can build the next great apps.
So I sought out some of the App Store's most creative minds to see what they wanted out of this year's update. While we'll all enjoy playing with whatever cool new features Apple unveils, these are the people who will use them in ways that are infinitely cooler than the ones demoed on the main stage. And they're already dreaming about how iOS 10 will take their apps to the next level.
Siri API
Ever since Siri made her debut in iOS 5, users everywhere have been waiting for the day Apple loosens its grip on its digital assistant and allows developers access to her intelligence. And as you might have guessed, developers are itching to get their hands on her smarts, too.
Dan Counsell of Realmac Software thinks a Siri API is the only way Apple can keep track with its competitors. "If Apple wants to stay ahead of other virtual assistants like Alexa, they really need to open it up to third parties. I think there's a really high chance this will be one of the announcements during WWDC this year."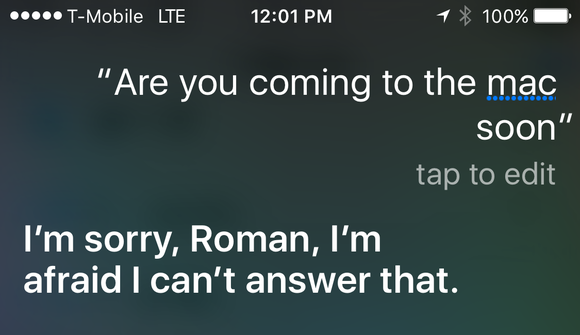 Before Siri goes cross-platform, it would help if it works with more third-party services.
Max Seelemann, co-founder of The Soulmen, creator of the popular Ulysses text editor, agrees with Counsell. "From the day of the announcement, I have wanted something like this and have been wondering when they will open it up. Siri's charm comes from the vast range of language she understands—-there are literally a thousand ways to express the same command of setting an alarm."