watchOS 3 is Apple's most crowdsourced product ever
Apple saw how we actually used our Apple Watches, and adapted watchOS to fit. Hallelujah!
watchOS 3 is Apple's most crowdsourced product ever.
Ever since it made its debut alongside the iPhone 6, Apple Watch has been fighting for respect. Branded a failure from virtually the day it was released, Apple's first wearable has faced more scrutiny and criticism than any other new product in its history. Even more than the iPod Hi-Fi, price and unrealistic expectations overshadowed the things it did particularly well, and many weren't willing or able to give it the room it needed to grow.
As it turns out, it didn't need it. Barely a year into the product's existence, Apple is rebooting watchOS, dumping key features, reimagining others and dramatically changing the way we implement and interact with it. On its website, Apple says it "Feels like a whole new watch," and it's hard to argue that point.
Of course, some will conclude that watchOS 3 is a major mea culpa, a Maps-sized admission that the first iteration was off-base and that Apple got it all wrong. That may be true, but I don't think Apple ever expected to get it completely right. At its introduction, Tim Cook called Apple Watch the company's most personal product, but I think its connection goes deeper than the physical relationship. Apple is allowing watchOS to grow within the community that uses it, and our experiences with it will directly impact its evolution.
Button up
Compared to iOS 10 and macOS, watchOS didn't get as much stage time at the keynote, but its 19 minutes were more transformative than anything else unveiled on the stage. It's not just that apps now open instantly–watchOS 3 is a complete rewrite of everything we knew about Apple Watch. I can't remember a time when an Apple product was so significantly transformed without a new hardware release. Even iOS 7 kept the general concept intact.
Take the side button. Previously it led directly to the friends ring, where you could quickly call or message one of the 12 people closest to you. In watchOS 3, that button launches a dock that contains your favorite apps, a logical action that more closely mirrors our expectations from iOS.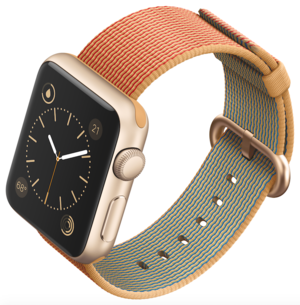 Credit: Apple
When designing the watch, a friends button probably seemed like a smart shortcut. Most people use their iPhone to contact the same five or six people multiple times a day, so making it easy to message them right from their watch isn't a horrible idea. The only problem is, most people rarely initiate a conversation with their watch, and it's not something worthy of a dedicated button.
But I never expected it to change, at least not until Apple designed a watch without a button. Generally Apple takes its time with major changes–it took until version 10 to be able to hide the stock iOS apps we never use–and it certainly doesn't let public sentiment dictate the direction of its products. But that's what Apple Watch so special; it's so personal, so intimate that Apple doesn't want to deliver a one-size-fits-all experience that simply piles features on top of a static platform. And it's paying attention to how we use it.