watchOS 3 FAQ: Glances are going away as Watch apps speed up and move to a Dock
The Apple Watch is getting faster and easier to use, with fun new messaging and fitness features, too.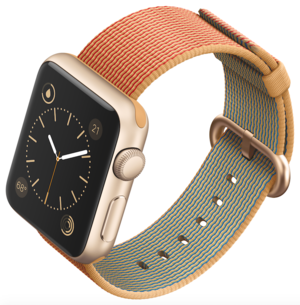 Apps launch instantly when you tap on their complications. Credit: Apple
Are there any new features for Complications?
Complications were introduced in watchOS 2 as a way for third-party app developers to add little bits of useful information to your watch screen—everything from flight times and news alerts to the weather forecast and your iPhone's data usage. But complications were limited to just a few watch faces. Now they're available on the Photo, Motion, and Timelapse watch faces.
Launching an app from a complication in watchOS is a slow process—so slow that I rarely do it. But with watchOS 3, apps will launch instantly when you tap the complication on the watch face, with information that has been refreshed in the background and ready to view.
Can I control my HomeKit accessories with my Apple Watch?
Apple's new Home app is coming to both iOS and watchOS, so you can control all your HomeKit-compatible appliances right from your wrist.
Are there any changes coming to Apple Pay?
Apple Pay is about to get even more useful in watchOS 3. Apple's mobile payment service was included in the watch from day one, but now app developers can integrate it for buying stuff in-app and not just at the register.
Does the Apple Watch have any new tricks?
Yes, and we can't wait. When your Apple Watch is in the vicinity of your Mac, you won't need to enter a password to open it—your Mac will unlock itself. It's a perfect demonstration of seamless continuity between devices.
Developers get the first crack at watchOS 3 starting now, with a public launch slated for fall.
Do you have any questions about watchOS 3? Let us know in the comments.
Previous Page 1 2 3 4 5