watchOS 3 FAQ: Glances are going away as Watch apps speed up and move to a Dock
The Apple Watch is getting faster and easier to use, with fun new messaging and fitness features, too.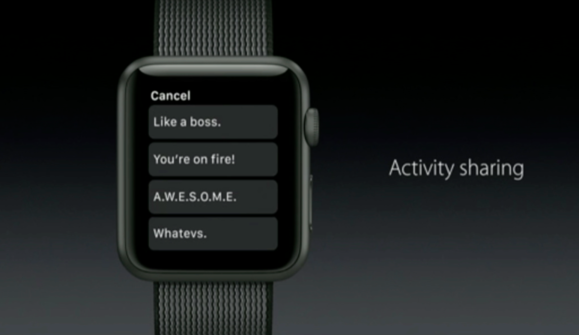 You can send your friends and family words of encouragement, if you're feeling nice.
You can even share your post-run heartbeat with a friend to prove you've left them in the dust.
Are there any changes to the Workout app?
In watchOS 3, the Workout app gets its own complication, so you can start a workout right from the watch face. There's also a new Quick Start option so you can jump right into a workout without setting a goal. Swiping to the left ends a workout, so you no longer have to force touch the screen to end, pause, or resume a workout.
The Workout app in watchOS 2 is split into sections you have to swipe through, which is inconvenient when you want to see your distance, pace, elapsed time, heart rate, and calories burned in one glance. With watchOS 3, all of those metrics will be displayed on one screen. You'll also be able to mark segments and label new workouts like Pilates and boxing.
One small but major Workout app change, at least for me, is the automatic pause/resume feature for runs when the watch senses that you've stopped, say at a stoplight. Forcefully pressing on a watch screen with sweaty fingers to pause my workout when I have to wait for car traffic is just gross.
I use a third-party fitness app, not Workout. Will those apps get better?
Apple is opening up all of its sensors to third-party fitness apps, which means apps like Runtastic, Runkeeper, and MapMyRun can tap into real-time heart rate data, the gyroscope, and the accelerometer. Your favorite fitness apps will now be able to run continuously in the background when you start a workout and capture all the data that was once only available by tracking activity in the built-in Workout app. This will go a long way toward making the Apple Watch a better fitness tracker, especially if you already have a preferred third-party fitness app.
Another small tweak: When you raise your wrist to glance at your watch screen during a workout, your watch will wake to show you the stats in the fitness app that's running in the background. The watch recognizes what the foremost app at any given moment is, so even if you switch to the Music app to skip songs, raising your wrist again will bring up the fitness app instead of Music.
Are the Apple Watch's fitness features becoming more accessible?
Yes, Apple is adding a new setting in the watchOS 3 Activity app for wheelchair users. When you toggle it on, your watch will recognize your wheelchair use with hourly "time to roll" notifications instead of "time to stand," two new workouts in the Workout app, and recognition of wheelchair pushes toward your activity rings.
Previous Page 1 2 3 4 5 Next Page