watchOS 3 FAQ: Glances are going away as Watch apps speed up and move to a Dock
The Apple Watch is getting faster and easier to use, with fun new messaging and fitness features, too.
SOS works using your iPhone's cellular connectivity if it's nearby, or a Wi-Fi network if your watch is connected. If you're traveling overseas, your watch will know to dial that country's emergency number and not 911.
After placing the call, your Apple Watch will share your location with the people you've marked as emergency contacts in your phone. The watch will also put your Medical ID, which you should also set up on your iPhone, on its lock screen so first responders can see vital information like your age, allergies, and medical conditions at a glance.
Are there any new apps?
Apple is bringing Apple Watch-optimized versions of its stock iOS apps Find My Friends and Reminders to watchOS 3. Reminders displays your various to-do lists and lets you check off items. Find My Friends updates automatically in the background so you can see where your friends and family are at any given moment.
There's also a brand-new health app called Breathe.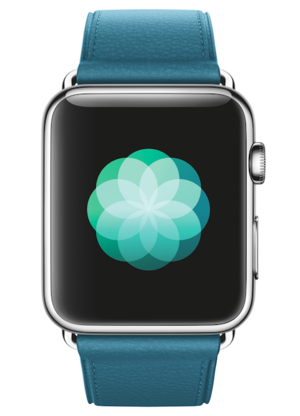 Your Apple Watch already reminds you to stand. Now it tells you to relax. Credit: Apple
What is Breathe and what does it do?
Breathe is a relaxation app that guides you through deep breathing exercises using haptic feedback, the subtle wrist taps that your watch uses for notifications. You can access the new app from your home screen, the new Dock, or from notifications that remind you to breathe, which you can adjust.
At the end of a session, the app will show you a summary of your relaxation time and your heart rate (just to see if it really worked).
The Apple Watch is a great fitness tracker but there are no social features!
Apple is taking a page from Fitbit with a watchOS 3 feature called Activity Sharing, which does exactly what it sounds like. You'll be able to share your Activity rings with friends and family and see theirs, too. Closing the three Activity rings, which encourage you to move, exercise, and stand more every day, is addictive. Seeing your friends' rings is easy: Just swipe to the right of your own rings to a list of your contacts. You can sort the rings by step count, workouts, or exercise minutes, and even tap on a specific person to see their activity stats, including workouts from both built-in and third-party fitness apps.
The Activity app is also integrated with Messages in watchOS 3. When you tap on your contact's name to see their rings and daily stats, scroll to the bottom to send them a message. You can choose from prewritten smart replies that are either encouraging or, um, rude.
Previous Page 1 2 3 4 5 Next Page