watchOS 3 FAQ: Glances are going away as Watch apps speed up and move to a Dock
The Apple Watch is getting faster and easier to use, with fun new messaging and fitness features, too.
The Apple Watch started shipping last April, and despite selling an estimated 11 million watches last year, Apple's "most personal device ever" has taken a lot of heat over its imperfections. The biggest criticism: Its super slow speed, which at launch was due to relaying all information from your iPhone. Apple released watchOS 2 last fall, which allowed apps to run natively on the device instead of from your phone, but that didn't make a huge difference.
At the Worldwide Developers Conference keynote, the Cupertino company showed off another major upgrade to the Apple Watch in the form of watchOS 3. The next-generation operating system promises to solve all those issues with slow apps and a complicated user interface, and will make the watch even more personalized. Here's everything you need to know about watchOS 3, which rolls out to the public this fall.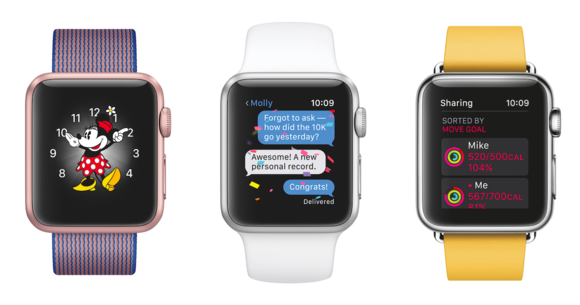 Credit: Apple
The Apple Watch is slow. Will watchOS 3 speed it up?
With watchOS 3, your favorite apps will launch seven times faster than they do currently—and this applies to both built-in apps and third-party ones. When you open an app from the brand-new app Dock or from its Complication on your watch face, it will launch instantly (no more spinning wheel of death). The new watchOS will keep those apps in the watch's memory and update them in the background, so you'll always see the latest information when you need it.
Launching apps from the home screen is hard. Will that get easier?
The home screen is staying the same, with all those tiny, tiny app icons. But the Apple Watch's side button beneath the Digital Crown, which has been used to call up a list of your watch-wearing contacts, will now launch a Dock with your 10 favorite apps—either Apple's own or third-party options. The new Dock will effectively replace Glances. Think of the Dock as a version of the iOS app switcher, so you'll see a recently refreshed snapshot of each app with the latest information. Tapping on an app here will instantly launch it. You'll also be able to instantly launch apps by tapping their watch face Complications.
So that side button is finally gonna be useful?
Aside from the Dock, the side button will call up a brand-new feature called SOS. Press and hold the button to place a call to emergency responders in a medical emergency or when you feel unsafe. After pressing the button, your watch will count down from 3 to 1 before placing the emergency call, just in case you've activated the button accidentally.