Vine comes to Android, once again proving that people are jerks
Hating another person's mobile OS is in your DNA.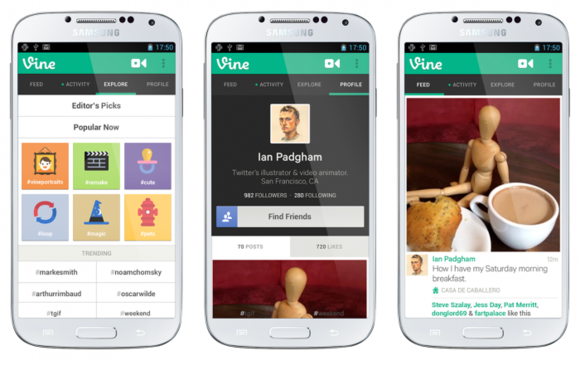 Vine, the 6-second video-sneeze app, has finally made the transition from iOS to Android. Most iPhone Vine users don't know and don't care about the app's growing user base. But in the days following Monday's app update, in a relatively small, less welcoming corner of the Internet, various iOS users have taken to Twitter to protest Vine's decision.
This there-goes-the-neighborhood reaction recalls similar nativist sentiment when Instagram—another beloved social media app that was previously exclusive to iOS—made its way to Android. And it's also a phenomenon that makes us question the roots of tribalism in the human species. Could it be that mobile platform diehards don't like sharing "their" apps because it's in their genes?
Before we answer that question, let's make sure we're all on the same page. Here's a sampling of anti-Android sentiment in the wake of Vine's platform expansion:
It's ranged from sarcastic pity...
Watching Android users post stop motion animations of their food disappearing on Vine reminds me of the good old days.— Scott Johnson (@scottjohnson) June 3, 2013
To hostility...
lmao android users pls stop following me on vine. I'm not following back — Diu(@DianaaaaBro) June 4, 2013
To, finally, to sour grapes...
Well, now that everyone on iOS is bored of Vine. I suppose we had to let Android users have a crack at it. — Andrew Jones(@AHJ87) June 4, 2013
It's as if Android users are the new kid in town from Jersey, social apps are the pretty blonde cheerleader, and iOS is one big Cobra Kai dojo. But this isn't really about iOS users. If anything, platform elistism is a human problem, and some experts think we're hardwired to love "our" operating systems at the expense of others.
Elitism may be in our genes
The Apple versus Android rivalry is nothing new. Whether it's the Mac-versus-PC flamewars of old, college students playing prison guard and prisoner, or even shirts-versus-skins tussles on the basketball court, we all love dividing into groups and hating on the other side. Identity politics are alive and well in the iOS versus Android era—and they reflect humankind's inherent bent toward tribalism and dismissiveness of "the other."
"The human inclination towards tribalism is sometimes more genetic, than psychological, as a predisposition," says Doctor Tyrone Adams, professor of communications at the University of Louisiana at Lafayette, and co-editor of Electronic Tribes, a collection of essays about human tribalism in the Internet age.
"It is no surprise that when new technologies are released, we use them the same way we would a hammer," Adams says. "With a hammer, we can build things, and with a hammer we can tear them down. I guess it just appears more dynamic to the spectator, because of all the 'bling' that communication technologies present."