USB-C charging: Universal or bust! We plug in every device we have to chase the dream
Four devices and five chargers tell us just how close we are.
We push harder on USB-C charging
With the laptops taken care of, we took a closer look at the Nexus 6P, plugging it into each of the laptops using the stock USB-C cable to see what would happen. (The laptops were powered on and running on battery.) In all cases, the phone charged, but as we discovered with the power bricks, the Nexus 6P's charge rate varied. On the Spectre X2 and the MacBook 12, the Nexus 6P charged at its presumably higher "Charging rapidly" rate. On the Google Pixel, however, the Nexus 6P reported "Charging slowly," which suggests a step down from just "Charging."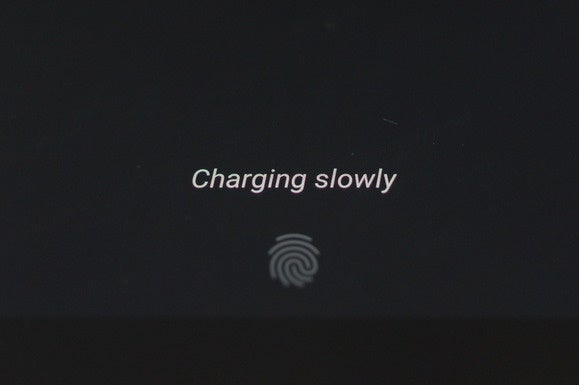 Oddly, when plugged into Google's new Pixel over a standard USB-C cable, the Google Nexus 6P charged at its slowest rate.
The discrepancies between the Nexus 6P's charging rate with the power bricks versus the standard cable is likely due to how much power the USB-C ports on the devices put out versus how much the power bricks put out. If you're curious about the voltage and amperage of the various bricks, see the chart below.


Peep the power specs of the USB-C chargers tested in this plugfest.
Ever since Google's new Pixel came out, I've wondered what would happen if you plugged a separate USB-C charger into each of its USB-C ports. Like the Spectre X2, the Pixel can be charged from either port. I plugged the MacBook's charger into the left port and the Google Pixel charger into the right port.
Nothing caught on fire (darn!), but the Pixel is smart enough that you can pull a charger from either port and it won't skip a beat. I could, for example, unplug the Google charger and have it run on the Mac charger, and then plug the Google charger back in and unplug the Mac charger, without interruption.
HP mentioned that one of the issues still being worked out is how the spec responds when you connect one laptop's USB-C port to another's. In theory, the Power Delivery spec allows you to charge a friend's laptop from yours, just as if you were jump-starting someone's car.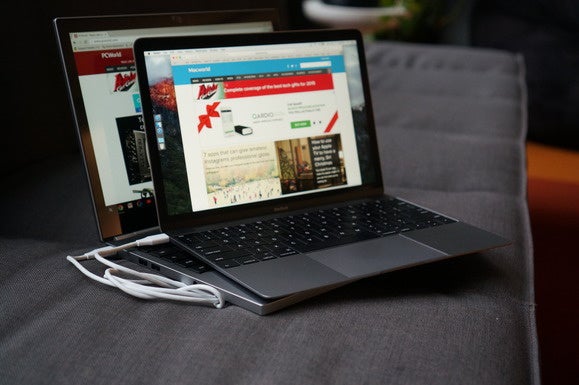 USB-C's Power Delivery mode should allow the Google Pixel to charge the Apple MacBook 12. Credit: Gordon Mah Ung
To put that to the test, I took the Google Pixel with its battery at 100 percent and plugged it into the MacBook 12 at 61 percent. The charging icon on the MacBook changed, but its battery continued to discharge, and the OS indicated that it wasn't charging at all.
Previous Page 1 2 3 4 Next Page