USB-C charging: Universal or bust! We plug in every device we have to chase the dream
Four devices and five chargers tell us just how close we are.
Even more impressive, the tiny 15-watt Nexus 6P wall wart had just enough juice to charge the MacBook 12—albeit at a much slower rate. The Pixel would also accept a charge from the phone's wall wart, though it flashed a warning that the wall wart was a "Low-power charger" and that the laptop may not charge when powered up. I doubt you'd be able to charge any laptop that's under a heavy power load, but in a pinch, a USB-C phone charger could do the trick. Think about that: You could probably just borrow your friend's smartphone charger when your laptop battery dies!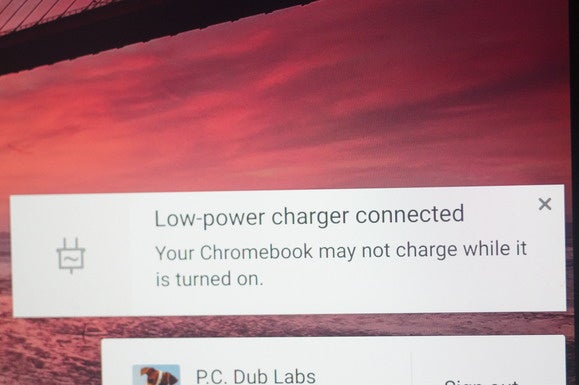 Plug a smartphone charger into the new Google Pixel's USB-C port and it'll warn you that the device may not charge when on. Credit: Gordon Mah Ung
Where the universal dream falls short
There's always someone who spoils the party, and this time it was HP's Spectre X2. This reasonably priced Surface Pro clone has two USB-C ports, and while it would charge with its own brick in either port, no other charger, including Innergie's aftermarket model, would give the Spectre X2 juice while it was on. This was the case even when the Spectre X2's battery was down to 10 percent.
Here's the chart of what worked and what didn't.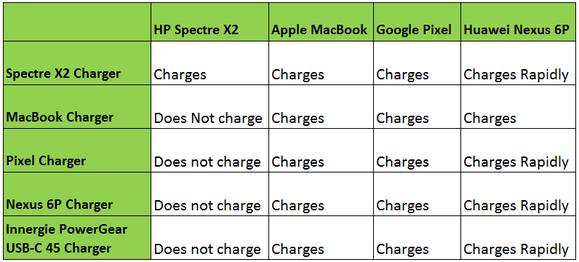 For the most part, everyone played nice—except for the Spectre X2.
After speaking with HP officials about the issue, it appears the company is just playing it safe. Fearing that a counterfeit or out-of-spec charger could make the touchscreen or audio subsystem flaky, HP has limited the access non-certified chargers have to the device. For now, HP exec Mike Nash told us, only "overnight" charging, or charging while the device is off, is supported.
"Are we being too conservative?" Nash asked. "I don't think so."
It's not that HP doesn't believe in USB-C—it already has four or five devices that use it for charging. The company just doesn't believe the spec is ready for interchangeability yet.
Lee Atkinson, a distinguished technologist at HP who's been leading the effort to corral PC makers around USB-C, said the upcoming Power Delivery 3.0 spec should solve many of the outstanding issues, such as how much voltage to supply and how to control which way power flows between two devices. For now, Power Delivery 3.0 is still a work in progress, but Atkinson said OEMs are all in agreement that it has to be done correctly and with group consensus.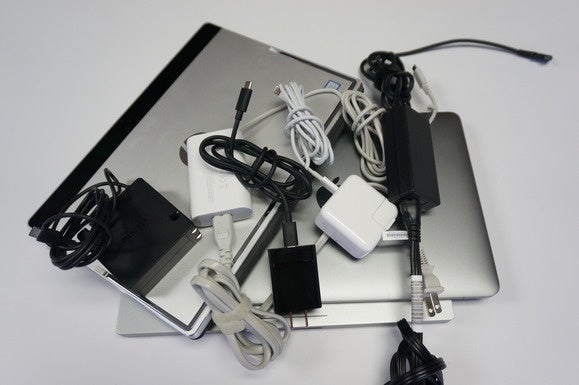 Here's the pile of stuff I tested, minus the Nexus 6P. Credit: Gordon Mah Ung
Previous Page 1 2 3 4 Next Page