Toshiba Radius 12 review: It stuns with Skylake speed and a spectacular display
We benchmark one of the first laptops out the gate with the new CPU.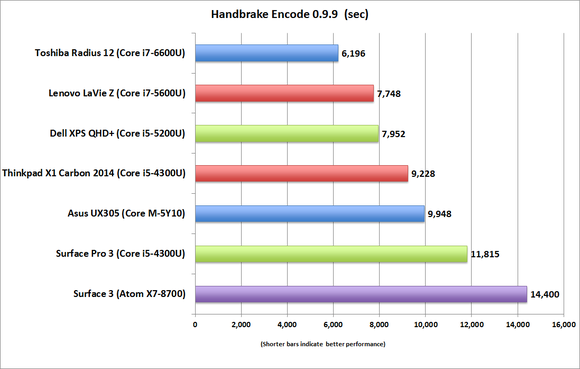 Skylake offers a significant performance advantage over Broadwell. Click on image to enlarge.
The performance difference there is what you call a "boom" in John Madden-speak. So why is it so much faster? Some of it is Skylake's design, which is "wider" than Broadwell and Haswell. Some of it is the chip's higher Turbo Boost scores too.
For example, the encode we run is a worst-case scenario for laptops and takes about two hours to run. On the Lenovo the CPU starts out at 2.9GHz but after two minutes, it falls back to 2.6GHz, where it stays until the encode task is done. The Toshiba's Skylake chip stars the encode at 3GHz and holds that clock speed until the entire job is done.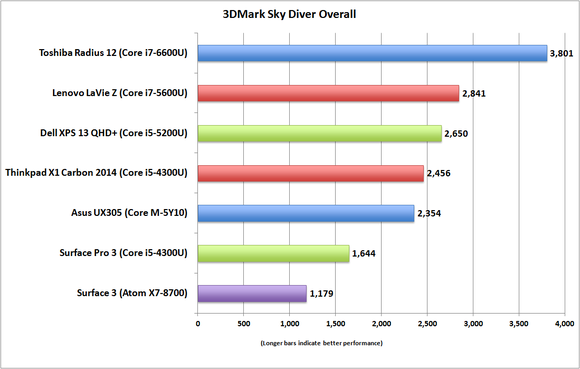 Skylake's graphics prowess again puts the Toshiba way out in front. Click on image to enlarge.
The Toshiba Radius 12 and its Skylake chip also lead the graphics benchmarking by a very healthy margin. The upshot is the Radius 12 is easily the fastest Ultrabook we've seen to date in both CPU and graphics operations.
I can't say the same for the Toshiba M.2 drive in the unit, though. It appears to be a SATA variant that pushes 500MB/s read speeds and 400MB/s write speeds according to CrystalDiskMark. That's great for a SATA drive, but in the day of PCIe M.2 drives that will easily triple that, it's a yawner.
Why isn't there a benchmark for bloatware? I found icons for eBay, Groupon, a WinZip demo, Spotify and WildTangent aboard among the usual Office demo offers. Sure, it takes 10 minutes to remove the apps, but c'mon. To be fair, if the company offered the same laptop without the bloatware for another $50, most people would take the one with the bloatware, so I'll stop the complaining.
The Price
That brings me to the price of the Radius 12. The configuration with the 4K panel, 8GB of RAM, 256GB SSD and Core i7 puts the laptop at $1,300. That's about average for an Ultrabook 2-in-1 with this level of components. You can shave off $300 by losing the the 4K panel.
When you think about the performance you're getting with the Radius 12 is easily among the leaders of the Skylake laptops right now. Of course, others are coming hot and heavy, so we'll see if the Radius 12 can holds it own.
Previous Page 1 2 3