Toshiba Radius 12 review: It stuns with Skylake speed and a spectacular display
We benchmark one of the first laptops out the gate with the new CPU.
Ports include HDMI, two USB 3.0 Type-A ports, and a new fangled USB-C port with full USB 3.1 data rates that's twice that of USB 3.0. Toshiba says the HDMI port supports 4K output, but that's at 30Hz. It's still HDMI 1.4 I believe, not HDMI 2.0, which would support 4K output at 60Hz.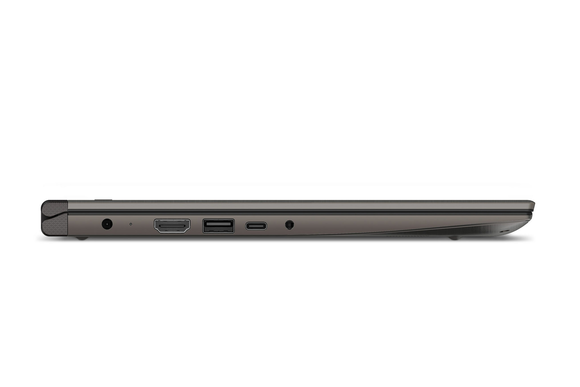 The Toshiba Radius 12 features two USB Type A and two USB Type C ports. Only the USB-C is 3.1 speed though. Credit: Toshiba
Dat screen
The screen on the Toshiba is gorgeous and I mean it. It's a Ultra HD 4K IPS job with 10-point touch. protected by Gorilla Glass NBT. There was no notable light leakage, even with the brightness on maximum in a darkened room. The backlighting also seemed fairly even. The screen is rated at 350 nits, and our meter actually put it just a shade over that at dead center. One thing I'll note, with the 10-point touch digitizer on top, the actually screen looked like it was set back slightly from the actually protective layer. It's a little distracting, as it gives it a shadowbox frame look.
Pulling up a high-resolution image or playing back a 4K video was enough to remind you that it's worth the power penalty for those pixels. And there is a penalty. Toshiba describes the Radius 12's battery life as "solid." To the company that means maybe 7 hours of run time. Unfortunately, I had no joy getting MobileMark 2014 1.5 to run, but I can tell you between a 4K panel and a 43-watt-hour battery, you're not looking at stellar run times even with the Skylake CPU.
What about performance?
As the first Skylake-based laptop we've laid hands on, I can tell you Intel's new mobile CPU doesn't disappoint. Sure, if you read my Skylake desktop CPU review, you shrugged you're shoulders like an insolent 14-year-old, but mobile is not the same as desktop.
All PC OEMs can tune the CPU to perform based on how much heat the laptop can soak up and dissipate, and how much they're willing to crank up the fans or let the shell get hot. Toshiba chooses to crank the fans up and run the chip flat-out.
For a performance comparison, I took the 13-inch Lenovo LaVie Z with its Core i7-5500U and HD5500 and upgraded it to Windows 10 to run performance benchmarks. That means Core i7-5500U in the Lenovo against the Core i7-6500U in the Toshiba.
The result? Skylake, at least in this showdown, shows a significant performance advantage.
First up is this Handbrake benchmark, where we take a large 1080p MKV file and encode it using HandBrake version 0.9.9. We use this older version for consistency across all the laptops we've tested. As there is virtually no difference between a Windows 8.1 and Windows 10 performance, I've included various other portables for comparison.