Toshiba Radius 12 review: It stuns with Skylake speed and a spectacular display
We benchmark one of the first laptops out the gate with the new CPU.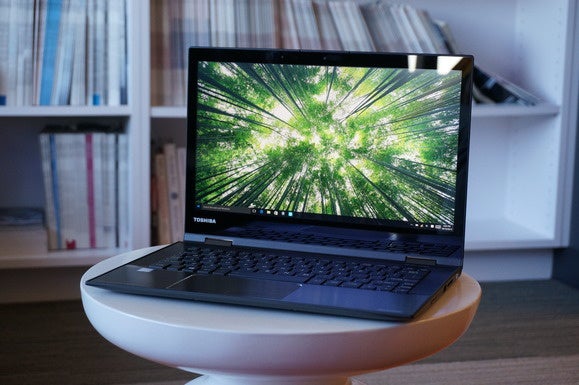 The Toshiba Radius 12 features Intel's Skylake CPU and a 4K Technicolor-rated display. Credit: Gordon Mah Ung
Toshiba's Radius 12 2-in-1 packs an UltraHD 4K panel into a 12.5-inch diagonal screen, and if that's not interesting enough for you, get this: It's also one of the first mobile PCs out of the gate with a Skylake CPU.
Toshiba outfitted the Radius 12 with an Intel Core i7-6500U 'Skylake' CPU. For those who don't speak model numbers, that's Intel's latest, 6th-generation Skylake CPU. There's also 8GB of LPDDR3 RAM/1600, and a 256GB M.2 drive. For graphics, it's Intel's integrated HD 520.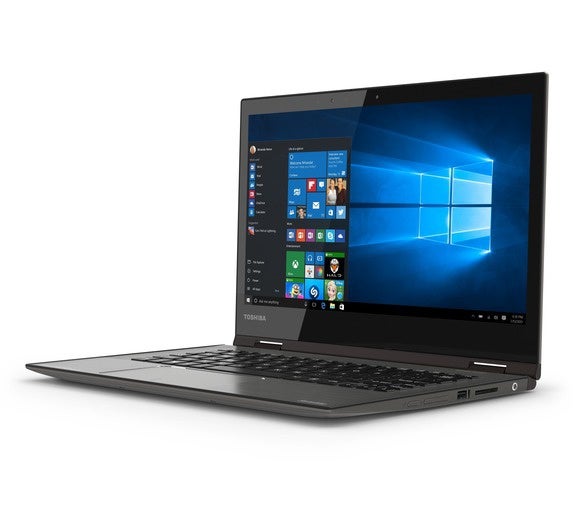 Toshiba's Radius 12 packs a Core i7 Skylake CPU and a stunning Techniccolor-certified UltraHD 4K display. Credit: Toshiba
Can you ever have enough pixels? What about the Radius 12 displays's 352 pixels per inch? It's also Technicolor-certified panel, offering far greater color accuracy. Translated into normal speak, it's a gorgeous IPS/IGZO display that you'd have to press your eyeball against to see pixels.
Toshiba also takes advantage of Windows 10's support for the nifty Windows Hello technology. Unlike devices with Intel's RealSense camera, though, the camera Toshiba uses flashes near visible-light IR LEDs at your face while it's checking you out. It takes less than a minute to set up Windows Hello and it generally worked well even in difficult backlit or sidelit situations.
As it's a 2-in-1, the Radius supports a tent mode and tablet mode. While larger 13-inch laptops might have a hard time pretending to be tablets, the Radius can almost pass with its scant 3-pound weight. It's about 11.8 inches wide, 8.2 inches deep and measures at 0.6 inches thick. The size compares nicely with the older Surface Pro 3—it's just a little thicker and a little bigger. With a weight of 2.9 lbs. it's Lenovo LaVie Z-light, but acceptable.
Toshiba said it thinks the Radius is small enough that it will get used as a tablet more often, and it designed the audio subsystem to account for the tablet mode. When you fold the tablet back, blocking the speakers, the system automatically filters the audio to account for that. With audio cranked, however, I still found it to be a little tinny. It is just a tiny little laptop, after all.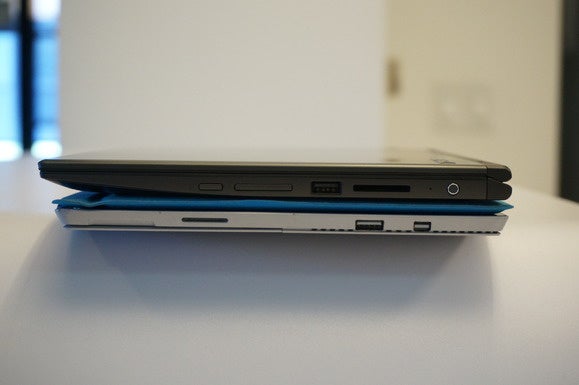 The Toshiba Radius 12 stacked on top of a Microsoft Surface Pro 3 with its Type Cover attached. Credit: Gordon Mah Ung
The Radius 12 has its shortcomings I haven't been a huge fan of Toshiba keyboards for some years, and the Radius 12 sticks to this regrettable pattern. While the width is standard, the height is just short enough to annoy the fat sausages I have for fingers. The cursor, and page-up and and -down keys are also sized to please Hobbits. Still, it's nothing as odd as the previously mentioned Lenovo LaVie Z'd forward-space button. The Trackpad is also kind of average.