TomTom Bandit Action Cam review: Shoot, edit, and share your action video in minutes
All it takes to edit a video is a shake of your iPhone.
Ready to shoot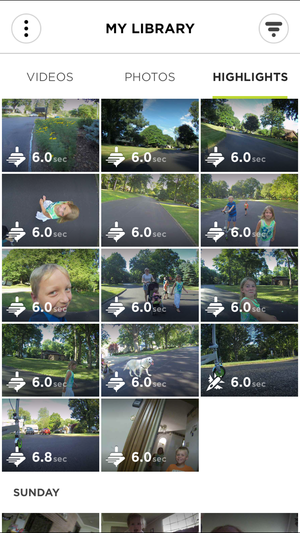 When the action gets more intense, TomTom Bandit highlights new videos so they'll take priority over other footage.
This hardware limitation has been imposed because Bandit is capable of recording H.264-encoded MP4 videos in up to 4K quality—but sadly, only at a choppy 15 frames per second (fps). Other supported resolutions are less restrictive, including 30 or 60 fps 1080p, 60 or 120 fps 720p, and an oddball 2.7K 30 fps mode. The built-in microphone records mono audio using AAC compression at a 48k sampling rate.
Picture quality is great, on par with the more expensive GoPro Hero4 Black (Amazon link). There are plenty of single, burst, and continuous photo modes (maxing out at 16 megapixels) as well as time-lapse and slow motion shooting options available.
Bandit shoots either normal or wide angle views, but photos and resolutions higher than 1080p HD are limited to the latter. Although I didn't have a dive lens cover to test it with, the latest software update enables automatic color and intensity when shooting underwater, adding a red filter to remove the garish blue and green typical from such footage.
Not surprisingly, TomTom has also packed a ton of hardware into the Bandit: sensors for tracking G-force, speed, rotation, acceleration, and altitude; as well as Wi-Fi and Bluetooth for connecting to smartphones and tablets.
Shake to edit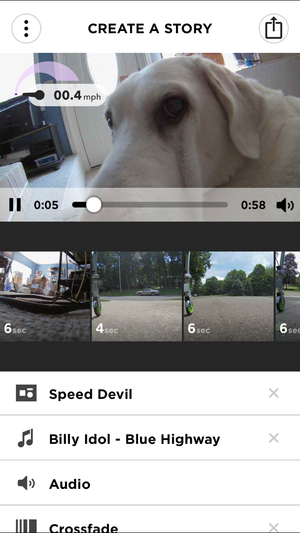 Creating a short video from your footage is as easy as shaking your iPhone, then spicing it up with overlays, music, and more.
One of the biggest drawbacks of action cams is that it's difficult to do anything with the footage out in the field. TomTom's ingenious solution is as simple as shaking your connected iOS or Android device, which automatically creates a short edited "story" from raw footage.
The mobile apps connect via Bandit's own built-in Wi-Fi network for instant playback, live viewfinder, and camera control as footage is shot. The motion sensors automatically tag recorded video as highlights when action becomes extreme, and that footage takes priority when creating stories; you can also manually mark highlights by pressing the start button.
Stories can be spiced up with iTunes music, crossfades, and overlays, which display recorded motion data on-screen. My only quibble is that the overlay size changes with the video resolution, making it better suited to footage shot entirely in the same format. The Bandit app also occasionally got confused about cloud-based music, so be sure to download your desired tracks from the Music app prior to adding a soundtrack.