TomTom Bandit Action Cam review: Shoot, edit, and share your action video in minutes
All it takes to edit a video is a shake of your iPhone.
Modern smartphones do everything you could possibly want, and that includes shooting great high-definition video. But if you're a risk-taker who prefers to ski down the side of a mountain, skydive from a plane, or generally live life on the edge, it's a good idea to leave that iPhone in your pocket.
Enter the action cam: Tiny, affordable cameras designed to go wherever weekend adventures might take you. Build to withstand the weather and a bit of abuse, hardware makers have watched shipments soar from 1.45 million in 2011 to an estimated five million plus this year as daring consumers document their escapades on digital video.
Best known for legendary GPS hardware and navigation apps, Netherlands-based TomTom soared into the action cam market earlier this year with Bandit (base model $400 on Amazon; premium pack $449 on Amazon), a diminutive shooter with unique hardware and software that's heads and shoulders above competitors.
Forget those square GoPro cameras—TomTom Bandit has style, good looks, and creates high-quality action videos.
Gangsta's paradise
Despite the hint of danger in its name, the barrel-shaped Bandit is an exceptionally cute and impressively engineered piece of hardware. Measuring 3.7 x 1.5 x 2.0 inches and weighing 6.7 ounces, the base model I tested includes a splashproof lens cover, two basic surface mounts, and an adaptor for existing GoPro mounts. (A premium pack adds remote control, handlebar mount, dive lens cover, and more.)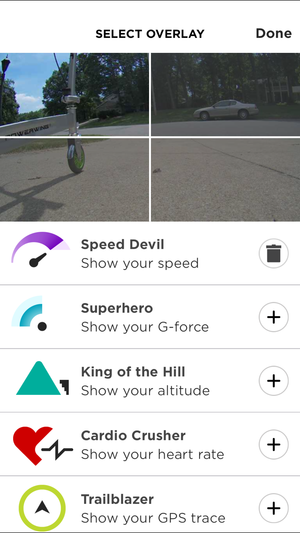 Overlays make edited videos more interesting by displaying recorded motion sensor data on screen.
Surface mounts can be attached to any clean, dry surface with the included 3M VHB adhesive; I chose the base of my son's three-wheel scooter for some nice ground-level shots. Bandit snaps onto the mount, unlocking easily with a pinch of two fingers on the bottom quick-release.
A roughly one-inch monochrome display provides quick access to settings and readable in direct sunlight, but like other action cams, there's no viewfinder. The device powers up with a two-second press on the rear start button; to shut down, hold down the stop button on the top instead.
The most unique aspect of the Bandit is what TomTom calls the Batt-Stick. Press a white switch on the back, turn the ring counter-clockwise, and pull to reveal a sealed 1900 mAh battery (good for up to three hours of 1080p shooting) with integrated USB 3.0 connector at the opposite end. There's also a micro-SD slot on the side, but you'll have to supply your own Class 10 card. Anything older is rejected for being too slow.