This is Gear Fit2, Samsung's $179 bid to out-feature other fitness wearables
Built-in GPS. 4GB of music storage. Android notifications. And a pretty curved display. The Gear Fit2 packs a lot of razzle-dazzle for $179.
Onboard GPS: With a GPS module built right in, you can see a map of your running route, as well as your running pace, all without having to take along your phone.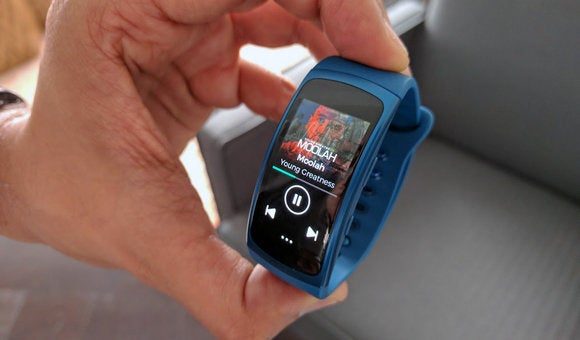 Jon Phillips The Gear Fit2 includes 4GB of storage for onboard music, and can display album art from Spotify.
4GB of music storage: Continuing with the "leave your phone at home" theme, the Gear Fit2 includes 4GB of storage for music tracks. Of course, you'll need some type of Bluetooth earbuds to actually listen to anything, and that's why Samsung is pushing the IconX. Samsung has also partnered with Spotify, giving you album art and other Spotify features directly on the Gear Fit2.
Automatic exercise tracking: The Gear Fit2 can automatically sense when you've started running, walking, cycling, rowing, elliptical machine training, or sleeping. If you engage in any one of these activities for more than 10 minutes, the band will start logging your progress. You can also manually trigger fitness tracking for yoga, pilates, and other activities.
Heart rate data: Unlike the original Gear Fit, which only supported heart rate "spot checks," the Fit2 gets closer to real-time heart-rate tracking, polling your heart rate once every second during the heat of exercise. It also checks your heart rate once every 10 minutes to create a daily view of what's going on with your ticker.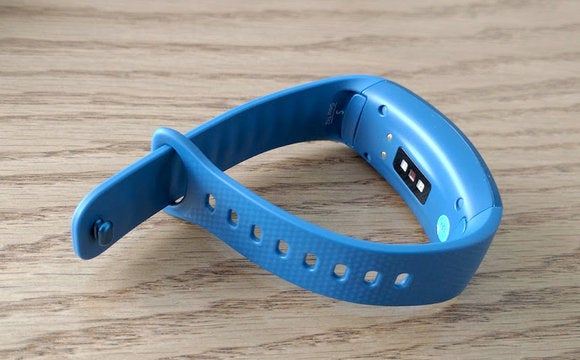 Jon Phillips Relative to the original Gear Fit, the Gear Fit2 seems to have an improved clasp. Note how the band now slides through a loop, aiding strap alignment.
Notifications: Any notification that appears on your Android phone can appear on the Gear Fit2, just as long as the two devices are paired. You can also send preformatted quick replies and emoticons to anyone who calls or messages you.
Battery life: The Gear Fit2's 200mAh battery promises three to four days of typical use. You charge via a proprietary charging cradle.
Design: The Gear Fit2's signature design feature is a dazzling, 1.5-inch, curved Super AMOLED display. With a 216x432 resolution, pixel density hits 322 pixels per inch. You can't swap out bands, but the device does come in small and large sizes. You also have more than one color option: black, blue and pink. With an IP68 rating, the Fit2 can be worn in the shower, and even briefly submerged in water. But don't go swimming with it on.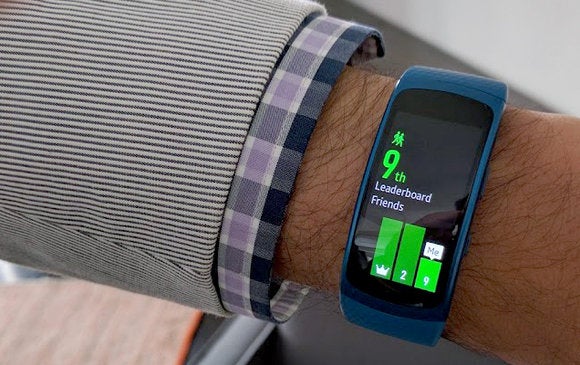 Jon Phillips Gear Fit2: The wearable for people who love wrist-worn charts and graphs.