The tragic tale of a shattered Apple Watch
Spoiler alert: This story has a happy ending, but it took months to get there.
I stood shivering in front of a pawn shop in Queens on a freezing December day, staring up at the bright yellow awning offering "Cash for Diamonds Gold Silver Coins." Beneath that, the store promised "Professional iPhone Repair on the Spot."
I didn't want cash or an iPhone repair. I was looking for the only business in New York City that could fix my shattered Apple Watch screen. My search proved futile, but you can take a lesson from my tale of woe: Consider AppleCare+ if you're buying an Apple Watch, because Apple is the only reliable repair service I could find.
How did I get here?
I'm not a clumsy person. I've owned multiple iPhones and never so much as scratched them, let alone dropped them on their faces. My Apple Watch was always affixed to my wrist, I thought. What harm could come to it? So when I excitedly preordered my 38mm Apple Watch Sport the instant it went on sale, I didn't think to buy AppleCare+.
The day before Thanksgiving, I came to rue that decision. I was traveling for the holiday and staying at a friend's house. My stuff was strewn about the guest bedroom, with my most important belongings—keys, wallet, Apple Watch on its charger—on the dresser. As I picked up my wallet to toss it in my bag and head out the door to see my family, I realized too late that my watch had been balanced ever so slightly on the wallet, just enough that moving it shifted the Apple Watch. It slipped off the dresser and onto the floor. The tiled floor. On its face.
Before I even turned to pick it up, I knew what it would look like.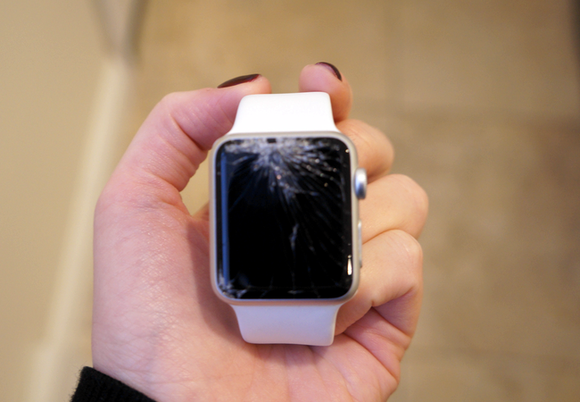 The damage done. Credit: Caitlin McGarry
Yeah, it was bad. The Ion-X glass that Apple says is "especially resistant to scratches and impact" didn't survive a 4-foot drop onto a hard surface. I immediately called Apple's support line in the hopes that I could take it to an Apple Store for a screen replacement. A friendly fellow named Andrew told me that without AppleCare+, I was looking at a $256.89 bill. Apple doesn't repair damaged watch screens, he explained. They just send you a replacement watch.
If I had purchased AppleCare+ for the watch, which is $49 plus tax, a replacement would have cost me $69 plus tax—Apple's service fee for accidental damage.
As Andrew broke down the math for me, I fell into a pit of despair. A brand-new Apple Watch would cost just $100 more than replacing the damaged one. The holidays were just around the corner and I had gifts to buy and flights to book. A vision of my wallet bleeding money popped into my head. Maybe the damage isn't so bad, I thought. Sure, the screen looks like I bashed it with a hammer, but it still recognized the force of my touch and I could kind of read the text on it. People walk around with broken iPhone screens all the time, and though I always wonder how they manage to not slice their fingertips open, they seem to get by just fine.