The Roll review: iPhone app takes intelligent charge of your Camera Roll
EyeEm's free app rates, ranks, and tags your photos so you don't have to.
Attention iPhone shooters: Just because you feel compelled to take 100 shots of your favorite local band's holiday concert or that cute duck family in the park doesn't mean locating the image you want or endlessly scrolling to find the best one to share on Facebook, Twitter, or Instagram won't give you a massive migraine. It will.
That's where The Roll (free on the iTunes Store), a new iPhone app from EyeEm comes in. The Roll is designed to save you time and effort by automating the curation and organization of all the photos in your Camera Roll (The Roll—get it?), from scanning and tagging to quantitative quality ranking. The Roll offers a helping hand in deciding which ones to keep and ditch. The best photo, according to the app's proprietary algorithm, always lands on top of the stack of similar ones, each accompanied by an "aesthetic score" of between 0 and 100. That helps you select which photos to share and also to lose.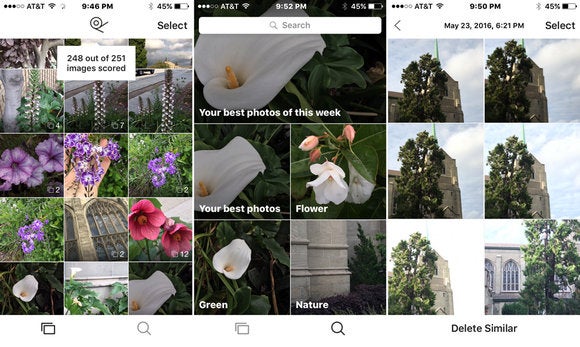 The Roll works its magic with its proprietary image recognition technology, EyeEm Vision, which automatically tags and scores your photos and organizes images by topic, location, and event. The algorithm, based on computer vision and trained by millions of images, recognizes not only content but mood and emotion, which it uses to generate keywords. Browse your collection by tapping on a tagged image collection or searching via keyword. At launch, the app recognizes and tags some 20,000 keywords. As the app continues to analyze additional photos, it promises to improve accuracy.
In addition to using artificial intelligence to generate keywords, the app also records metadata regarding your shots such as aperture, ISO, shutter speed, and focal length, plus a tiny map pinpointing location.
Some users have voiced privacy concerns, and for good reason. For the app to do its job of tagging and rating, your images must touch base with EyeEm's server. While some users undoubtedly would prefer that analysis take place directly on the device, EyeEm vows that only small thumbnails are uploaded to its servers, where they are processed, and then promptly removed and that transmission to and from the server goes via encrypted https protocol. EyeEm says no actual humans see your photo. The servers themselves were fairly speedy, with my Camera Roll of 250 new photos taking just over two minutes to process.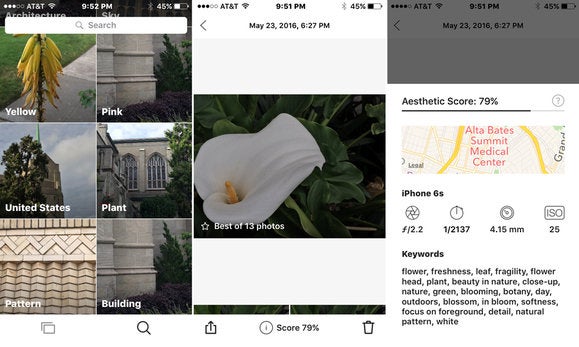 While the built-in iOS Photos app classifies your images according to geolocation, date, and time, it eschews qualitative judgment on subjective quality issues like lighting, composition, focus, and subject. For must people, discerning the difference between nearly identical shots and scouring multiple shots on a small screen for fine details or color gradations remains a challenge.