The Internet of Things, explained
Everybody's talking about it, billions are being spent on it, and it will impact all of our lives sooner rather than later. Our primer explains what all the fuss is about.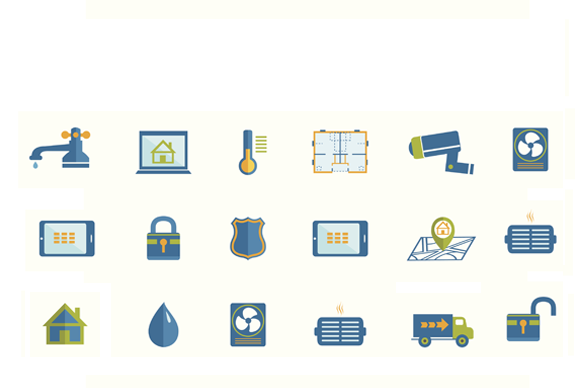 You walk up to your front door, and it unlocks as it recognizes the key fob in your pocket. It's cold outside, but the air on the other side of your threshold is a toasty 74 degrees because the thermostat fired up your furnace the instant you (your phone, more accurately) crossed the 20-mile geofence you drew around your home. As the door swings open, your recessed lighting illuminates your path to the kitchen, everyone's first destination when arriving home after a long day at work. A glance at an app on your phone, linked to the fitness tracker on your wrist, shows your daily calorie quota will accommodate a glass of wine with dinner.
It sounds like a scene from a sci-fi film script, but this vision of the future is attainable today, thanks to the concept of the Internet of Things: A world where every device--from the tiny sensors on your doors and windows to the largest home appliances--has an Internet address that renders it not only uniquely identifiable, but accessible from anywhere you have Internet access. And every one of these things can exchange messages with every other thing, no matter who built it.
Wearable devices from companies like FitBit and Jawbone upload statistics related to your physical activity to the web, so you can analyze the data and make better choices. Whistle, which makes activity trackers for dogs, provides pet owners data about their animal's health. Some insurance companies offer their customers a sensor that plugs into your car. It measures how well you and you can lead to a discount on your insurance if you don't swerve, speed, or brake hard on a regular basis.
The Internet of Things aims to seamlessly integrate all aspects of one's life into useful, manageable data. Some aspects--activity trackers, for instance--are useful on a very personal level; but the technology can offer societal benefits as well. The city of Boston recently commissioned a smartphone app called Street Bump to help its road maintenance crews learn where the worst potholes are. Bostonians download the app to their smartphones and keep it open while they drive. The accelerometers in citizens' phones detect when the car goes over a particularly bad bump, and the app uploads the data to a city-owned database. The information helps the city make the most effective use of its citizens' tax dollars.
Common home appliances are getting into the act, too. Big Ass Fans' Haiku ceiling fan with SenseME technology contains sensors that adjust the fan's speed based on a room's humidity and temperature. It can also sense when a room is occupied, so that it doesn't waste energy cooling an empty room. What's more, it can be integrated with the Nest Learning Thermostat. Since a ceiling fan can make a room feel cooler than it actually is, the Haiku app on your smartphone will suggest increasing the target temperature that will trigger your air conditioner to turn on. You can set that temp right from the Haiku app.