The best third-party keyboards for iPhone and iPad
Let's face it: Third-party keyboards have left Apple's iOS keyboard in the dust. Here are our favorite picks.
There are numerous options for customizing the experience both visually and conceptually—including the ability to adjust the number of milliseconds that elapse before auto-spacing is activated—and a series of gestures streamline functions like backspace and punctuating. There's even a build-in calculator mode that will perform simple equations.
Granted, Nintype's concept and heavy use of animation might not fit everyone's tastes (or fingers), but those willing to spend some time learning it will enjoy a noticeable bump in their word output.
Others of note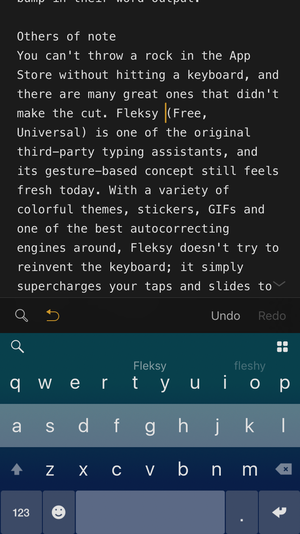 Fleksy's design may be timeless, but that doesn't mean it hasn't kept up with the times.
You can't throw a rock in the App Store without hitting a keyboard, and there are many great ones that didn't make the cut. Fleksy (free, universal) was one of the first third-party typing assistants to hit the app store, and its gesture-based concept still feels fresh today. With a variety of colorful themes, stickers, GIFs, and one of the best autocorrecting engines around, Fleksy doesn't try to reinvent the keyboard: It simply supercharges your taps and slides to speed up your pecking.
Like Fleksy, SwiftKey (free, universal) has been around since the moment Apple opened up the keyboard section of the App Store, and it's only gotten better with age. Smart, simple and sleek, the swipe-centric keyboard relies on top-notch predicting and autocorrecting to deliver a superb typing experience. However, Microsoft acquired SwiftKey back in February and has plans to integrate SwiftKey's powerful learning engine with its Word Flow keyboard, which means we can only expect Microsoft's keyboard to keep getting better and better.
Most custom keyboards offer a variety of ultra-modern designs and futuristic color combinations to dress up your keys, but Hanx Writer (free, universal) tackles personalization a little differently. Created by Tom Hanks—yes, that Tom Hanks—the keyboard mimics the sound and style of a classic typewriter, with several realistic renditions of 1940s-style machines. And if you use the companion app to take notes, you'll even get old-school typefaces.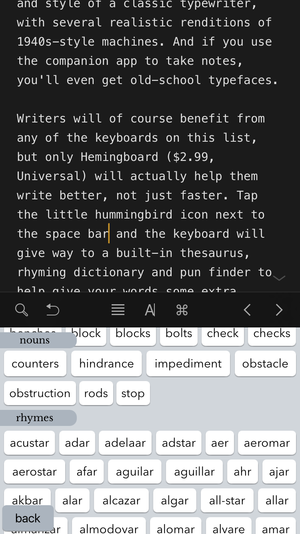 With Hemingboard, the solution to writer's block is just a tap away.
Writers will of course benefit from any of the keyboards on this list, but only Hemingboard ($3, universal) will actually help them write better, not just faster. Tap the little hummingbird icon next to the space bar and the keyboard will give way to a built-in thesaurus, rhyming dictionary, and pun finder to help give your words some extra oomph.
And if you need to work with several languages, iTranslate (free, universal) will be your perfect lingual companion. With support for some 90 languages, the keyboard packs everything great about the app into a fully functional keyboard that puts a powerful translator right at your fingertips.
Previous Page 1 2 3 4 5 6 Next Page