The best third-party keyboards for iPhone and iPad
Let's face it: Third-party keyboards have left Apple's iOS keyboard in the dust. Here are our favorite picks.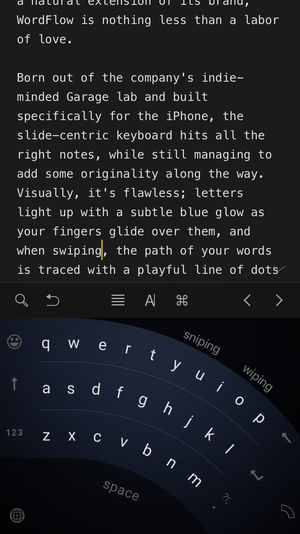 With Word Flow's one-handed keyboard you'll feel like you're using an iPhone SE in a Plus' clothing.
Every keyboard needs a gimmick, but Word Flow's is one you're likely to actually use pretty often. Pull down on the small arc symbol in either of the top corners, and the keyboard will transform from a traditional layout into a fanned one meant to encourage one-handed typing. This isn't a simple shift like Reachability—the curved keyboard repositions the keys for maximum efficiency, allowing your thumb to comfortably reach all the way to the farthest keys. There's a slight learning curve (no pun intended), but after a few moments you'll be typing with your usual speed.
Microsoft has built a prediction and correction engine that not only rivals Apple—in my experience, it occasionally even bested Google's Gboard with first-attempt accuracy. Whether tracing or tapping, words are spelled out with near-flawless accuracy, and it does an excellent job of learning your habits as you type.
Best for GIFs: Giphy Keys
GIFs make the world wide web go round, but finding them and using them can be a pain. With Giphy Keys (free, iPhone only), the whole process is boiled down to just two steps: find and insert.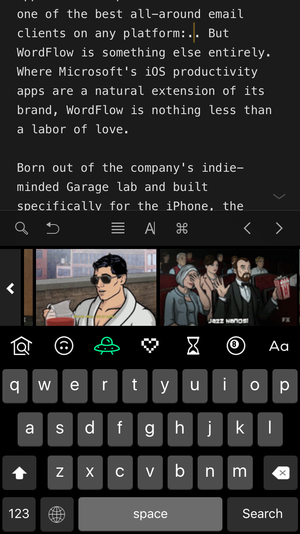 Giphy Keys offers one-stop shopping for GIF fanatics.
Most serial giffers are already familiar with GIPHY's expansive library of memes and moving pictures, but its keyboard puts the whole catalogue at your fingertips, whether you're composing in Mail or Tweetbot. As an actual keyboard, Giphy Keys leaves quite a bit to be desired, with no slide typing, predictive terms, or even autocorrect, but that's not its appeal. It's meant to be a companion to your keyboard of choice, and in that capacity it performs admirably, offering easy access to GIFs with just a couple of taps.
A series of shortcuts lets you search, browse trending topics, explore categories, and access your favorite gifs, all in an easy-to-use interface that's surprisingly speedy despite its cramped quarters. The only problem with it is that it's so easy to get lost in its results you may forget what you were actually looking for.
Best for maximizing screen real estate: Minuum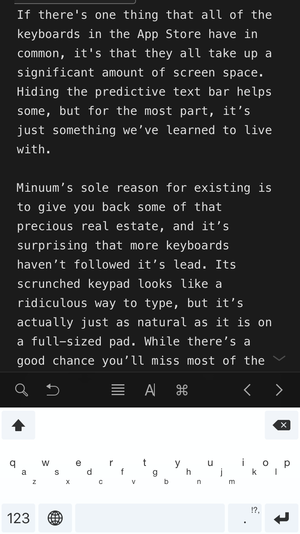 If you want to reclaim your lost screen real estate, give Minuum's short keyboard a try.
If there's one thing that all of the keyboards in the App Store have in common, it's that they all take up a significant amount of screen space. Minuum's ($4, iPhone only) sole reason for existing is to give you back some of that precious real estate, and it's surprising that more keyboards haven't followed its lead. Its scrunched keypad looks like a ridiculous way to type, but it's actually just as natural as it is on a full-sized pad.
Previous Page 1 2 3 4 5 6 Next Page