The best password manager on Android
You really need to be using a password manager, and Dashlane is currently at the top of the heap.
Solid desktop apps
The best way to get going is to download Dashlane to your PC or Mac. The desktop software will then suck in your passwords if you're elected to save them in Chrome, Safari, Firefox, or Internet Explorer. It then prompt you to install the extension for the requisite browser—the exception being Microsoft's new Edge browser for Windows 10, which yet doesn't support extensions.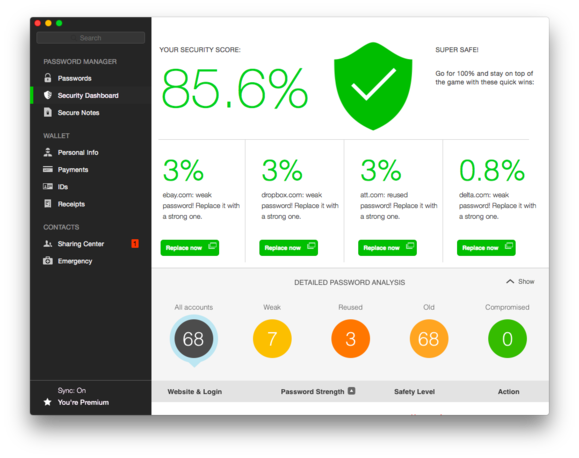 The Dashlane apps for Mac and Windows calcluate a security score to determine the safety of your online accounts. Credit: Dashlane
Dashlane has a pretty easy-to-follow video if you want a little more visual instruction. The biggest hangup I found is that Chrome tends to save duplicate profiles of the same account, usually because sites often have multiple entry points. Unfortunately there's not yet any type of tool for mass-deleting duplicate accounts, so you'll just have to pick them off one at a time.
A security dashboard
But what Dashlane does provide for you is an overview of how secure your password situation is. Odds are it will be pretty dismal, as you're likely to find lots of sites where you re-use passwords or have simple-to-remember ones.
That's where one of Dashlane's coolest features kicks in. It can change passwords en masse, instantly giving you a stronger security situation. This doesn't work for all services, but I found it changed the majority of my weak passwords at once.
Speaking of weak passwords, the most important thing you'll need to do is ensure that's not what you do with your master password: that's the skeleton key that lets you or any other trusted individual into your account.
The biggest downside to the desktop experience is that Dashlane doesn't work on Chromebooks. The workaround would be to sign in to the Dashlane site and copy a password over when you need it, though that could be a major disruption to your workflow.
The Dashlane documentation is careful to use the word yet, so there's hope for the future. If you want to dig into what else Dashlane can and can't do, there's a rather helpful support page.
There is one thing worth noting: the much-celebrated integration with SwiftKey is on hold due to some software bugs. A SwiftKey spokesperson told me there was not issues with data security, but there was enough wonkiness to take the feature down for now. There's no timetable for its return.
A few alternatives
While Dashlane is the favorite among the Greenbot team, there are certainly other good alternatives. LastPass has been at this a while, and works without desktop software so you're able to cruise along just fine on a Chromebook. A longtime favorite on the Mac is 1Password, which has a rather good Android app now that nearly matches the precision of the iOS version.