The best laptops of 2016: Budget PCs, 2-in-1s, Ultrabooks and more
Our top picks show off the best tech advances in portable PCs, from new CPUs and GPUs to new materials and of course, Windows 10.
Best low-end Chromebook: Asus Chromebook Flip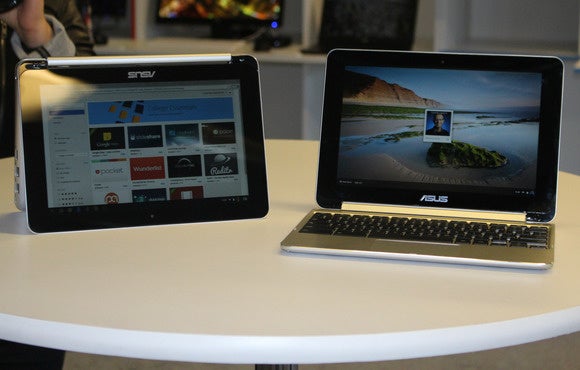 The Asus Chromebook Flip has a 360-degree hinge and will take advantage of upgrades to Chrome OS specifically to improve the touch UI. Image: Melissa Riofrio
We have low-end Chromebooks to thank for bringing web productivity to the masses—budget-minded individuals, and of course, cost-conscious schools. The cheapest model we've seen, the Hisense Chromebook at Wal-Mart, costs just $149. Go there if you want or need to, but our pick for the best low-end model is a little more expensive—and a lot more versatile. That would be the Asus Chromebook Flip, the first mainstream Chromebook convertible and a solid deal at $249.
The Flip boasts an aluminum chassis and a superior-quality IPS touchscreen display. Granted, that display is a diminutive 10.1 inches compared to the 11-or-so inches you'll get with other units in this price range, but that's a tradeoff for the machine's 360-degree talents. A low-power Rockchip 3288 CPU helps keep the Chromebook Flip in bargain territory—and saves on battery life, which we clocked at over ten hours.
Previous Page 1 2 3 4 5